We combined delectable greens with pungent, nutrient dense herbs fresh from the farmers market with leftover
pumpkin seed patties
for a delicious, unique salad, made even tastier with a savory rosemary and garlic dressing. Enjoy the healing properties of parsley and basil (or some other herbs of your choice), served on a bed of tender lettuces and beet greens, topped with colorful, health-boosting red cabbage. This salad would make a winning addition to any festive occasion, or daily fare.

Ingredients: Serves 4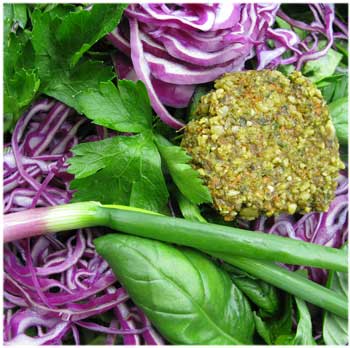 5 cups lettuce, chopped (butter lettuce, romaine, etc,)
1 cup basil leaves, chopped
1/2 to 3/4 cup beet greens, chopped
1/2 cup red cabbage, super finely sliced
1/4 cup parsley, minced
4-6 tablespoons green onions, finely sliced

Directions:
Make sure ingredients are fresh! Rinse in cool water, give a final rinse with pure water, drain, and pat dry.
Chop or tear lettuces and beet tops to desired size. Put into large bowl. Add the herbs, cabbage, and green onions. Toss.
Spoon on the dressing at the table.

Dressing:
6 tablespoons oil (we use Spectrum Walnut Oil)
4 tablespoons balsamic vinegar
2 tablespoons minced rosemary leaves
1 tablespoon thyme leaves
1-2 cloves garlic, peeled
Put all ingredients into blender, and blend until smooth.

A Little Story: Inner Independence
I got caught up in some drama this last month, and temporarily lost my center, that place of Soul that is found deep within, the place where all things good emanate. The dental work from two weeks ago tipped the scale, along with the move (still in process), and family issues.

When I'm deeply centered I enter a state of unconditional love. This translates to where I'm "cause", and not the effect of events around me. The causal energy had slipped into the background as I felt weighed down, and it didn't feel good. Yet, spiritual studies, contemplation, walking, talking with people I love, eventually brought me back to the core of my being.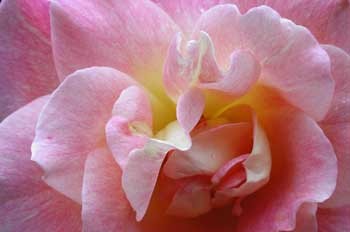 As did juice. It tipped the scale in the healing process of my tooth (along with laser treatments), to where the tooth has now been saved. With the end of physical discomfort, I was able to fully return to my essence.

When the tooth was hurting I started to eat differently, emotionally wanting more things cooked that were soft and easy to chew, like our quinoa salad from the last Healing Feast. I think we ate it five times! And that's a lot of cooked food for us. This created a cycle of not feeling as well because I wasn't getting the full amount of nutrition my body was used to. Ripple effects from this ensued, which triggered the desire for more comfort foods. The effects were predictable and it was easy to see that I'd lost the delicate balance where discipline plays the sacred role of friend and ally.

Rex and I love the raw food diet because it creates a state of independence from processed, packaged, fast, and GMO foods. We're so blessed to be living in the Pacific Northwest with its mineral rich soil. (Thanks to our friend, Eliza, we now know this!) Living the raw food lifestyle brings a lot of personal freedom and potential for awesome rejuvenation. Organic foods abound at the farmers markets, and in the North, this is the time of year when we really reap the benefits of the local bounty.

This morning, Rex shared with me some of his thoughts on independence, which to him includes the concept of inter-dependence—working together with people to create states of harmony and manifestations in the world that honor what is most important in life, for the good for the whole. This brings freedom.

On July 4th in America, we celebrate our independence. We can also celebrate the inner states of independence of our minds and emotions, where our thoughts and feelings are authentic, not something that has been broadcast to us from an outside source where we are told what to believe in ways that are calculated to make us react, and become effect, or bound.

Bringing events into our being, transmuting difficulties with love, finding our personal truth, all contribute to the reward of personal revelations, and unique courses of action to take. This is where solutions abound—in a shining realm where we find that we can actually make a difference, helping to safeguard our freedom, and the planet simultaneously. Peace and independence be with you all!