Our lives,
so seemingly small,
ripple out
to the whole universe
as tiny whispers
like the sounds
of butterfly wings,
and the clear voice
of the living truth.
-J.L.D.


Here is a list of many of our personal favorite books, and websites. Weblinks are provided for your immediate access. Sites in each section are listed in alphabetical order.

FOOD RESOURCES

RAW FOOD WEBSITES

INSPIRING WEBSITES

RAW FOOD BOOKS

VEGETARIAN/VEGAN COOKBOOKS

These books are excellent for those who are vegetarian or are wanting to become vegetarians. (They are not raw food books)

HEALTH

SPIRITUAL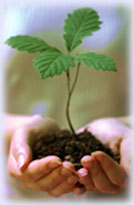 The Healing Feast is about:
healthful practices,
following our intuition,
& eating life-giving foods.

It's about:
transformation, joy,
inspiration, peace, gratitude,
and soulful beauty.

It's about:
living a life filled
with abundance and love,
& giving what is the best
within ourselves to the world.