Ingredients (makes 20 patties):
3/4 cup raw, hulled, pumpkin seeds, dry, or soaked for 6 hours*
1/2 cup carrots, scrubbed, and chopped
3 tablespoons green onions, chopped
3 tablespoons parsley, chopped
2 tablespoon
Azuki Bean Miso
(or favorite low salt miso)
2 tablespoons olive oil
2 tablespoons fresh garden sage, chopped
1 tablespoon sweet yellow onion, chopped
1 teaspoon fennel powder
1/4 teaspoon pepper (black, or, cayenne)

*Note: Dry pumpkins seeds will make a crunchier patty. Soaking the seeds makes a softer overall texture, and neutralizes the enzyme inhibitors present in the dry seed. When the pumpkin seeds have been soaked, the drying time increases by two hours.
Directions:
Our food processor is small, so we have to grind the seeds and carrots individually, then combine them together with the other ingredients. We've also made these successfully using a Green Star juicer, and a Vitamix.

Put pumpkin seeds in food processor and grind up as much as possible. Put in bowl.
Put carrots in food processor and grind up as much as possible.
Add parsley, sage, onions, miso, fennel, and oil to carrots and mix well.
Add pre-ground pumpkin seeds and run machine until whole mix is as smooth as possible—about two minutes.
(Or, leave more chunky, for a nicely textured pâté.)
Scrape down sides as needed. Transfer to a bowl.
Take about 2 tablespoons at a time from mix, press between palms and form into balls.
Put balls on dehydrator Teflex sheet, and press by hand to flatten. (About 1/4 inch thick.)
Dehydrate for 2 hours. Turn patties over, and dehydrate for 1-2 additional hours.
Serve warm.
Lemony Mustard Dressing:
1/4 cup olive oil
2 tablespoons ready made stoneground, or dijon, mustard
3-4 tablespoons lemon juice
2 tablespoons finely chopped green onions
2-3 teaspoons agave nectar
1 clove garlic

Whisk ingredients until smooth and velvety.

A Little Story: When inspiration strikes!

We were driving home after seeing our friends Eric and Ellie on their property on the west side of the island. They have been a constant source of inspiration to us in how they have been working their land, making it ready for when their house is built.

One of the things we greatly admire, is that they have insisted on growing nothing but food-bearing plants, bushes, or trees, because they know of the importance of being able to live completely off the land.

As we drove home, I wondered what could we plant that would take care of our nut or seed needs? A vision of pumpkins and sunflowers came into my mind. Of course! These crops wouldn't be too hard to grow and we could plant enough to eat throughout a year. Shelling the seeds would take time, but that could be done in the winter, a quiet evening project.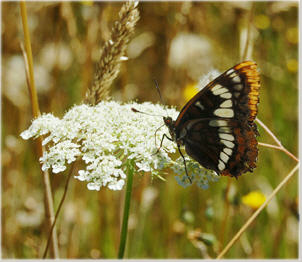 When we got home, another intuitive image came—pumpkin seed patties. Where had that come from? (It always amazes me when wisdom and knowledge slide in effortlessly, complete and glowing, emerging from some mysterious and remarkable soulful place.)

Ideas alight in our awareness, like the gentle brown butterfly that had touched down to greet us we got home from Ellie and Eric's. We love the arrival of these moments—humble gifts to be sure.

The message for the day was to act immediately on the impulse and information received, lest the moment pass, only to be forgotten. I was able to begin making dinner with joy, knowing intuitively that a new dish would be on the table in a few hours—and soon after, appearing on The Healing Feast to share with you, our wonderful readers!

Rex says,
A real transition
(one that comes from within our hearts and being)
is better than following a rule book
. Seeds grow, and make more seeds, more life. To us, this is sheer inspiration!