Fruit waters abound with beautiful colors and delicate, delicious flavors and aromas. They refresh and hydrate the body without the high glycemic content of straight fruit juice.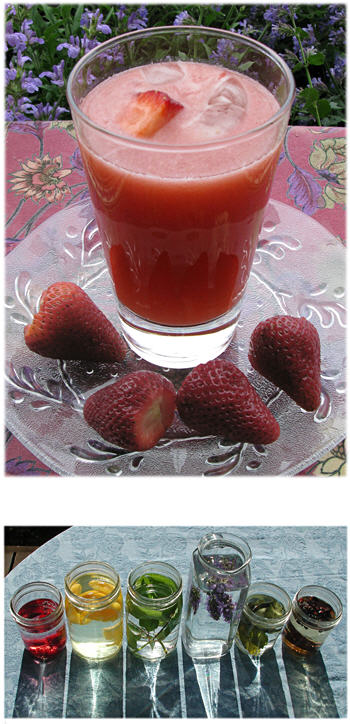 If drinking plain water doesn't float your boat, try these simple blended fruit juices made with mostly water and a couple handfuls of fresh fruit. They're so easy to make—just toss everything into the blender and buzz for a few seconds.

We're looking forward to trying nectarines, peaches, watermelon, papayas, grapes, apricots, kiwis, and more, as summer fruits flood the markets! Here's some fruit waters that we've made so far:
Ingredients
Serves 2
1/2 cup strawberries, 2 cups pure water
1 teaspoon agave nectar, sprinkle of cinnamon
---
1/2 cup blueberries, 2 cups pure water
---
1/4 cup pineapple, 1 small banana, 2 cups pure water
The addition of a tablespoon of bee pollen to this drink makes it super energizing.
---
1/2 cup mango, 2 cups pure water
---
Prepare fruits, removing any bad spots, skin, leaves, etc., and put in blender.
Add water, spices, agave, pollen, and blend until smooth.
Pour into glasses with ice, or drink at room temperature.
Sun teas
are another way to get water into the body,
with tastes that can complement meals.
Mint is delicious with
Wraps
, lemon is delightful with
Quinoa
.
Click on these links to see previous Healing Feast recipes.

A Little Story:

I suppose you could say that I'm a water baby—I just love being in and around water. I was a competitive swimmer in my early years, and, as my friends know, I spend a lot of time soaking in the bath!

I imprinted on water growing up in West Seattle. Our two homes had stunning vistas that overlooked the Olympic mountains and Puget Sound. Those watery views remain infused in my memory. The all too short summers were spent walking up and down the hill to the local beach at Alki Point, baking in the sun, and swimming in the freezing waters that were almost too bone numbing to bear, even for hearty children.

Yet drinking enough water on a daily basis has been a challenge, and every few months we work on increasing our water intake. Making these fruity, watery drinks (and sun tea), is a nice alternative to drinking plain water, and provides extra nutrients to keep the mind clear.

Now that it's summer, these fruit waters are a welcome addition to our diet. We drink them between meals for a delightful snack that is both hydrating and energizing. Enjoy!

Coming next week (we hope!): The Little Wheatgrass Farm!