Our lives,
so seemingly small,
ripple out
to the whole universe
as tiny whispers
like the sounds
of butterfly wings,
and the clear voice
of the living truth.
-J.L.D.


Tightly rolled savory fillings are wrapped using a variety of leaves such as spinach, nori, collards, lettuce, rainbow chard, and green cabbage. The combinations are endless and it's fun to create these tasty roll-ups that are perfect for lunch and dinner, or parties. Our experience has been that people absolutely love them!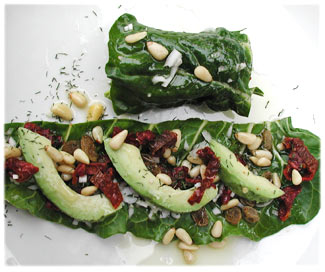 Choices for fillings abound: try avocado, shredded veggies like carrots, cabbage, radishes, jicima, sprouts, cucumber, zucchini, seed cheese, nuts, mangos, sundried tomatoes, fresh chopped herbs, and spices.

Ideas for dipping sauces or salad dressings are as wide open as your imagination. Depending on the ingredients for the roll-up, different flavors can work magic, such as wasabi, ginger, tamari, nut butters, cilantro, herbs, salsa, pesto, garlic, curry, or mustard.

Use your intuition on the amounts and proportions—whatever looks good usually is! These are easy, playful, and adaptable recipes. The most satisfying and tasty wraps are made with a combination of flavors and textures that include sweet, sour, bitter, salty, crunchy, and creamy. (See links to roll-up demonstrations on YouTube following the recipes.)

Seven Wrap Combinations:
Spinach:
Avocado, tomato, green onion, sprouts, olive oil, sea salt, and either pesto or salsa.

Rainbow Chard 1:
Shown in photo, top. This was adapted from our friend Megan's recipe, who in turn was inspired by Ani Phyo's wrap recipe: Rehydrated and sliced sundried tomatoes, avocado, dill, Hunza golden raisins, pine nuts, green onions or garlic, olive oil, and Himalayan salt.

Rainbow Chard 2:
Finely shredded beets, apples, and carrots, a spoonful of tahini, stoneground mustard to taste, a sprinkle of apple cider vinegar, olive oil, and sea salt.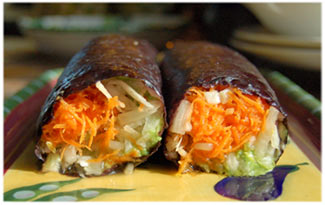 Nori
: Shown at right. Grated jicima, greens, finely shredded carrot, avocado, miso, walnut oil, pressed garlic, and a sprinkle of unseasoned brown rice vinegar.

Collards:
Raw sweet white corn (cut off the cob), diced tomato, diced red bell pepper, a pickle slice, splash of balsamic vinegar, olive oil, Himalayan or Celtic salt.

Lettuce:
Thinly sliced water chestnuts, raw cashews, finely chopped green onions, avocado, teaspoon of fresh grated ginger, cilantro sprigs, pinch of wasabi powder, tamari, and sesame oil.

Green Cabbage:
Shredded carrots, pine nuts, curry powder, balsamic vinegar, agave nectar, olive oil, Himalayan salt.

General Guidelines for Wraps:
Prepare 1-2 wraps per person depending on the size of the wrap.
One leaf, or nori sheet, uses anywhere from 1/4 to 3/4 cup filling.
If using miso, tahini, nut butters, or mustard, spread on leaves first, or mix into filling.
Wash greens. Pat dry.
Remove tough inner stems from chard or collard leaves.
Prepare filling and place desired amount on each leaf.
Sprinkle on salt, vinegar, herbs or spices, and oil.
Roll as tightly as possible. Secure with toothpicks if needed.
Sprinkle completed wraps with sesame seeds, hemp seeds, minced green onion, or herbs.

Dipping Sauces:
Favorite dressings can become dipping sauces for roll-ups. For ideas see The Healing Feast archive:
Easing Into Raw Foods: Salad Dressings
. Put the sauce in a small bowl for dipping pleasure. Sit back, enjoy the food, and relax—it's a wrap!

YouTube Roll-up Demonstrations:
Karen Knowler, the
Raw Food Coach
,
makes her favorite Nori Rolls

The Hippy Gourmet
makes a Chard wrap
: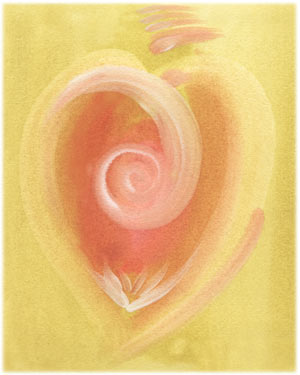 A Little Story:

Emptiness may be the ultimate wrap that holds an infinite variety of fillings. Creative juices act like zesty sauces. Poignant moments are enfolded in compassion.

The smooth turning of the Milky Way and the often not so smooth actions of our daily lives are contained in both the formlessness of Soul and in a magnitude of visible forms—in cosmic whorls of galaxies, spirals, and our DNA.

The body is a vestibule for the spiritual flows that move our being. Enlightenment reshapes us, literally. Where do these gifts spring from? The holy wishing well of the heart.