Our adventure this week with healing foods has centered around making wheat grass juice. Even though we don't eat wheat because of the gluten, the juiced grass is just fine.

Intuition guided me the other day to make a simplified form of wheatgrass juice with the blender. I used about 1/3 of the small flat of grass we'd gotten from the grocery store, cutting the blades into small one inch pieces, then blending with water.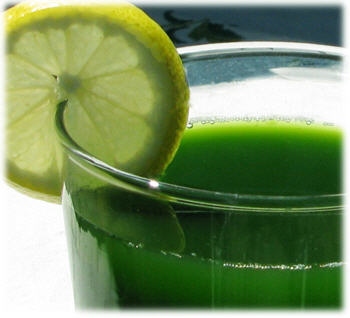 After turning off the motor, the pulp immediately floated to the top, and the water was a lovely emerald green color—chlorophyll and nutrient rich. I poured the water/juice through a strainer into glasses, and we drank.

The result? The flavor was sweet, and not nearly as overpowering as the full-throttle wheatgrass juice sold by the "shot" at the health food store. Within five minutes, a soft tingling was felt on the top of my head, and both Rex and I had a lot more energy. We had been hungry, and this small glass of water-juice kept us going strong for another hour and a half!

The next day we added a squeeze of fresh lemon juice, and we enjoyed the drink even more—it was extremely refreshing. The third day, we juiced it with a couple of apples—delicious! The blender method is an economical way of getting wheat grass juice, without much fuss, and in a palatable form. And even making it this diluted, it is still
very potent
! Don't drink any too late at night!

Wheat Grass Juice
Ingredients & Directions (serves 2):
1/2 cup cut wheatgrass
2-3 cups water
Blend on highest speed for 60 seconds.
Strain.
Add a few squeezes of fresh lemon juice.
To Grow Wheatgrass
Makes one 12"x12" tray. (Reduce following amounts for smaller batches.)
Soak 1/2 cup (raw) wheat berries overnight in 3 cups pure water. Drain and rinse. (Your other plants will love the soak water!).
Continue to rinse and drain twice daily until little tails appear in 1-2 days.
Place wheat in 1 inch of good quality growing medium, cover with 1/4 inch soil.
Water, and keep moist. Grass is ready in about 1 week.
We get our wheat from the
Wheatgrass Kits
folks — it's the most amazing, vigorous, and fast growing wheat, plus it's is very affordable!

A Little Story: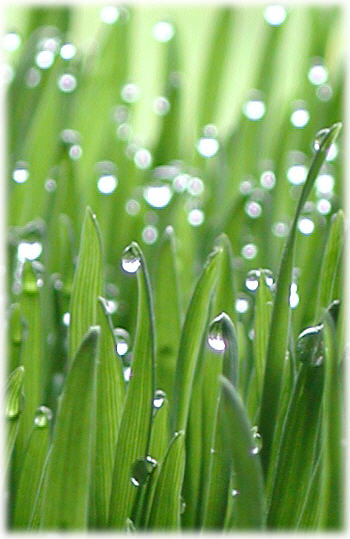 We once were standing at the juice counter at a Whole Foods store in California waiting to get our ounce of wheatgrass "rocket fuel", and a woman literally ran away from us because she couldn't stand the smell of the grass! We have read that it is so cleansing that even the smell can have this effect on some people! At that time, we were having daily shots of wheatgrass to help us deal with chemical sensitivities, and it did make a difference.

Maybe you've wondered about those lovely little flats of wheatgrass, and what to do with them. These greens are good for your kitty, and amazingly good for humans. When I took the photos for this week's Healing Feast of the wheatgrass that's been growing in our kitchen, and downloaded the images into the computer, we discovered the camera had captured a magical fairyland that gives a hint of the power that resides in those tender blades.

On the tips of the grass where dewdrops had naturally formed, we could see shapes that looked like little faces with bodies. These reminded us of nature spirits—wondrous lifeforms that are a part of the living consciousness that we are all connected with.

Dewdrops are considered to hold the healing properties of flowers, or in this case, of the wheatgrass. I learned through
The History of Bach's Flowers
that Dr. Edward Bach (1886-1936) first experienced healing on an emotional level as he wandered around the countryside in his native England, tasting dewdrops on the petals of wildflowers. This became the starting point for his astounding lifework, the Bach Flower Remedies.

Bennet Luchion (from
The Lovers Diet
, by Victoras and Youtka), states: "Wheatgrass makes you feel like it's spring all the time inside you." We'd never thought of it this way, but we agree! The feeling we get is just like this—the force of nature renewing itself within our being, as our bodies and spirit buzz with life, vitality, and a feeling of restoration from this quick and simple drink!