This has got to be one of the simplest, most delightful, sweet beverages on the planet! It's watermelon juice made from just watermelon. And it's not even juiced, but blended, so it comes out thick and luscious. All you have to do is to cut the watermelon open, scoop out the juicy flesh, and put it into your blender. Our Vitamix makes short work of any seeds, so there's no need to strain the juice. (If you have a less powerful blender, choose seedless varieties.) In minutes you'll have an absolutely delicious drink, and a perfect antidote to quench your thirst on a hot summer's day.

Ingredients: Makes 1 quart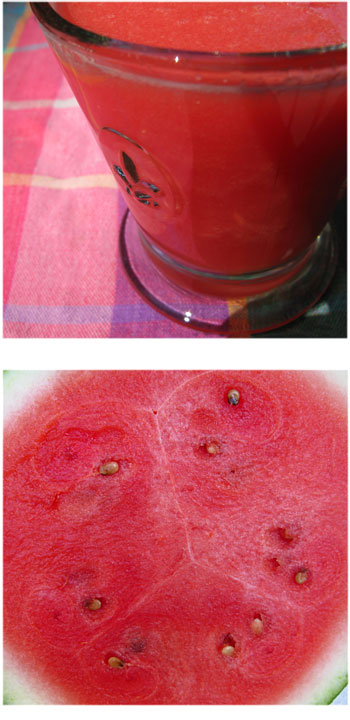 6 to 8 cups watermelon, cut into small chunks

Directions:
Put chunks into Vitamix or blender, and blend chucks on highest speed for about 20 seconds. Serve immediately. It's even more refreshing if the watermelon has been chilled.

When we lived in Friday Harbor there was so much electrical energy it was hard to sleep. (Our house was near a power station.) When the next door neighbors were away, I slept much better. But when they returned, something jacked up the energy. It was like drinking coffee before going to sleep. Perhaps they had Wi-Fi.

When we first moved here, into the condo, I was so excited because I could sleep in the bedroom. The energy was calm and peaceful. But we needed to hook up our internet. Rex got a router from Clear Internet, and it arrived with an added feature we didn't know was in there, home use Wi-Fi. To some people this might be considered a bonus, but not for us... read on.

The energy coming off the device was strong, and made us feel uncomfortable. I started having trouble sleeping, and one night I had the distinct impression that I was being microwaved! I felt absolutely awful, like my insides were being scrambled by those radio frequencies. After a few days of being stressed, Rex called another internet company, Comcast, and they delivered a new router, one that was shielded, and had no Wi-Fi. From the day it was installed, I was able to start sleeping again.

We can't imagine what Wi-Fi must do to people who live with it in their homes, and what the long-term effects might be. (We were cranky and on edge.) It's my belief that the body is not made to endure these frequencies day after day. And there's plenty of evidence that suggests that these energy fields ought to be avoided whenever possible.

Being sensitive to energies and frequencies from eating raw foods and maintaining a spiritual practice can be a very good thing. Besides the health benefits, it enables us to actually feel what's in our environment. Dr. Mercola has a helpful
web page
that talks about the various aspects of EMF's, the dangers, and how to protect ourselves. Rex and I are doing what we can to minimize these effects, like turning off our computers at night, and keeping cell phones turned off (when we remember). Soon we'll be shielding the computers in a metal box, so our exposure will be minimized even more.

We hope that by sharing our story it will help others who may be suffering unknowingly. If perhaps you're feeling edgy, are more argumentative, less able to open your heart, feel fatigued or can't sleep, checking into EMF exposure and talking steps to eliminate them may be an answer.

All the best to everyone in navigating through our rapidly changing and challenging world! Living a life of love makes it easier to take the best steps to help ourselves, which spills over to help others.