Yummy bean-free hummus! So beautiful and delicious with a salad, as a dip, or a topping for your favorite foods. Serve with juicy ripe tomatoes and crunchy zucchini or cucumber, along with a handful of sprouts. If you have any leftovers, the recipe can be stretched with a few tablespoons of water and blended for a dressing, suitable for a salad masterpiece!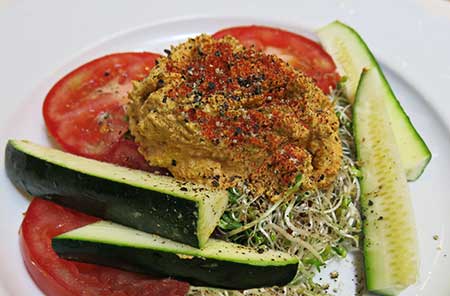 Make in a Vitamix if possible for the smoothest texture, otherwise a food processor will do—however the result will not be as creamy.

Ingredients: Serves 4 for a main meal, 8 for a side dish
1 cup walnut halves
1 cup carrot, sliced
3-4 tablespoons green onion, finely sliced
4 tablespoons pure water
2 tablespoons Coconut Aminos
2 tablespoons walnut oil
1 tablespoon stoneground mustard
1 teaspoon toasted sesame oil
1 teaspoon paprika
1/4 teaspoon black pepper, freshly cracked
1 clove garlic
1 tiny shake cayenne
Additional paprika and black pepper to shake on top
Zucchini or cucumber spears: several per person
Sliced tomatoes: several per person
Sprouts: handful per person

Directions
Put all ingredients into a Vitamix. Put on lid, and using the tamper, push down on ingredients until smooth. Or, put walnuts and carrots into food processor. Grind up as much as possible. Add remaining ingredients. Process until as smooth as possible, stopping and scraping down as necessary. Processing will take several minutes.

The Little Story: Improvisation!
This recipe was created because we'd invited a friend over for a casual lunch, and there were scant greens for a nice big salad. But I had a little bit of cabbage, cherry tomatoes, and sprouts. I wanted to make something filling and hearty, and pate came to mind, specifically using walnuts and carrots for the base. So I dove into intuitive mode, and let my imagination take the lead.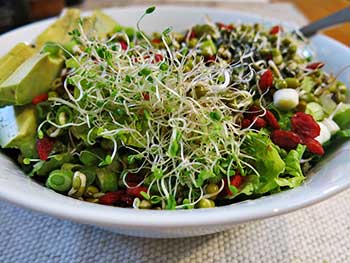 Besides the walnuts and carrots, paprika played a key part of this recipe, as did the Coconut Aminos. Paprika has a beautiful, deep rich color, and a subtle but pungent taste. Rex had made a mix of smoked and regular paprika, which had just the right flavor balance. Coconut Aminos added a subtle sweetness, with very little salt—perfect for me because I rarely eat salt, even Himalayan. The rest was easy: green onions, garlic, toasted sesame oil, black pepper, mustard, and a little cayenne.

I started it in the food processor, and it was good. Then Rex insisted we transfer it to the Vitamix, and this was definitely the right choice. In a minute we had a creamy smooth and thick hummus that was so yummy—just like the ready-made hummus you might buy. A dollop on top of our salad gave the heartiness I was wanting for lunch that day, and our guest absolutely loved it—he kept going back for more and more! It's also great on any salad, like this sprout salad (photo, right), bursting with health and vitality.

The point of this story is to not let a seeming lack of ingredients in the kitchen stop us from being creative and making something delicious and unique. This passage from my book,
Celebrate
ties in perfectly:

"If I could share one thing it would be this: to be led in the kitchen to discover and create for the highest good, the highest health, and for a love of life. Then, to reap the rewards of eating amazing food to nurture the body, mind, and soul. All the while relishing the process, and feeling the deep satisfaction and pleasure that co-creativity brings. Celebrate life, celebrate bounty, celebrate love!"