Ingredients (Serves 2-4):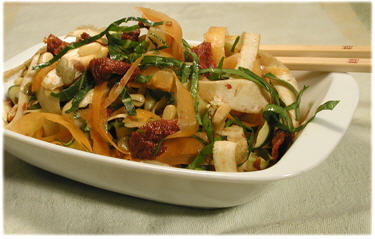 1 cup carrot ribbons
1/2 cup parsnip ribbons
1/2 cup zucchini ribbons
10 sundried tomatoes, soaked and sliced
1/3 cup collards, chiffinade cut
1/4 cup super fresh mushrooms, sliced
4 tablespoons green onions, finely chopped
2 tablespoons pine nuts

Directions:
Soak sundried tomatoes for several hours to soften
(or overnight if they are very dry) in enough pure water to cover them.
Drain soak water (it can be used for soup), and slice.
Place in large bowl.
Rinse all veggies under cold water, shake off excess.
Scrub, or peel carrot, parsnip, or zucchini, if needed.
Using a good quality vegetable peeler to get very thin, easy to chew ribbons (we use a Messermeister), peel carrots, parsnip, and zucchini lengthwise.
Place in bowl.
Roll collard leaf tightly, and cut as thinly as possible. This is a chiffinade cut, and makes ribbons.
Cut mushrooms, and green onions, and add to bowl.
Drizzle with a few tablespoons olive oil, and toss well.

Cilantro & Pumpkin Seed Pesto:
1/2 cup pumpkin seeds, soaked 4 hours
4-6 tablespoons cilantro, chopped
2 tablespoons Spectrum walnut oil
1-2 cloves garlic
1 tablespoon Balsamic vinegar
1 tablespoon fresh lemon juice
1/2 teaspoon Himalayan, or Celtic salt
1/4 teaspoon cayenne, or black, pepper

Directions:
Drain water from pumpkin seeds. Put in food processor.
Add cilantro, walnut oil, salt, pepper, and garlic.
Run machine to desired texture.
Add to veggie ribbons, mixing well by hand until ingredients are evenly coated—or spoon on at table.
Drizzle with balsamic vinegar and lemon juice.
This holiday season we decided to buy one living tree as a gift for Gaia. We found a little beauty with the deepest, forest green foliage (
, suited to grow in our region), nestled among the pots of pointsettias in our grocery store.
This got us to thinking about creating ways to give back to Gaia, and about the potential that lies in the growth of trees—thereby contributing to our planetary resources. What a wonderful feeling this gave us!
With the amount of people in the U.S. tallying up at more than 300 million, we calculated that if one fourth of the population bought just one baby tree and planted it after the holidays, that
There are organizations who are holding a vision of planting billions of trees to build our food supplies, combat pollution, and increase oxygen levels—and we can help in our own small way, one little tree at a time.
has to offer. Their "give a tree card" program is a stroke of genius and simplicity—buy one card for $5.95, and a baby tree is planted in one of our national parks in honor of the recipient!
In the course of our lives we've been loved so much, taken care of amazingly well, and nurtured with countless moments of grace and beauty.
We can do this...without thought of reward, loving the earth and each other, as it opens and fills our hearts—just because.