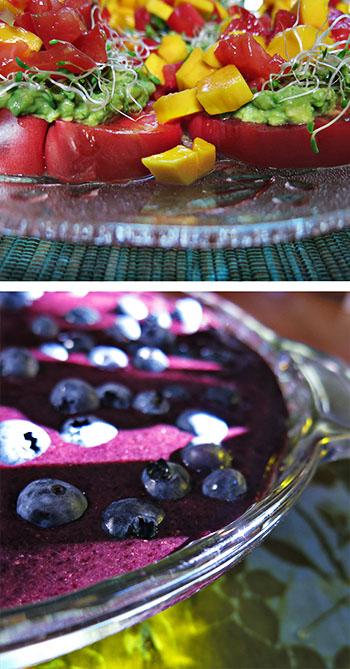 We can't get enough of summer's big, juicy, organic, heirloom tomatoes that really make this recipe taste amazing. To make "pizzas", we cut slabs of tomatoes, spread on a little mashed avocado, add a few sprouts, green onions, and top with curried chopped tomatoes and mangoes. This is perfect summertime "cooking", because there's nothing to heat, and the meal goes together in minutes. The photo shows a platter of tomato pizzas and a delectable
raw blueberry pie
we made as a celebration dinner for our dear friend and photographer,
Rosemary Alpert
, who was visiting, and has since relocated to this area. Welcome Rose! And we took these to our friends Dan and Charm's house for dinner, and everyone savored these melt-in-your-mouth, colorful creations.

Enjoy for lunch, dinner, or make as a side dish for a larger meal.

Ingredients: Makes 8 "Pizzas"
2 large heirloom tomatoes, sliced (use leftover tomato that couldn't be sliced for the topping)
1 golden mango, peeled and cut off pit.
4 tablespoons green onion, chopped
1 large Hass avocado, peeled and mashed
1/4 teaspoon curry powder
1 clove garlic, peeled and pressed
1/2 cup of your favorite sprouts, optional
Tiny pinch of Himalayan salt, optional
Freshly cracked black pepper

Directions:
Rinse and slice tomatoes, and transfer to a large serving platter.
Mash avocado, mince green onion, mix in with avocado, and spread about 2+ tablespoons onto each tomato round. Add a few sprouts (optional).
Chop leftover tomato pieces and the mango, mix with a tiny drizzle of balsamic vinegar, or a splash of lime juice. Add curry powder, pressed garlic, and mix well. Spoon on top of each "pizza".

The Little Story:Use What You Have, & Start Where You Are!
I learned a bit about making use of what we have and starting where I was the other day when I thought I needed to get more of the Strong Bones formula from
Dr. Robert Morse
. The herbs are outstanding, but there were some ingredients that were causing a slight raise in my estrogen levels.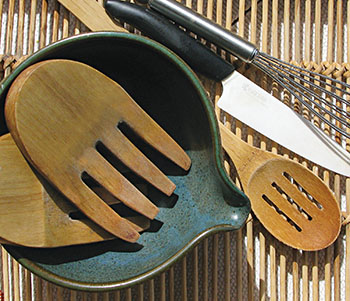 A nudge came to "use what you have", and I looked at the ingredients and saw that most of the herbs I already had on handsuch as oatstraw, nettles, and horsetail that we get in bulk from Mountain Rose Herbs—plus an assortment of seaweeds, and comfrey, which I wanted to add. I then created a recipe (so I could duplicate it months down the line), put everything into the Vitamix, and processed it until it was powdery.

Rex was getting low on Dr. Morse's formula for men, and had picked up a tea blend from
Dona Flora Herbs
at the farmers market weeks ago, but had not yet used it. I emptied the bag of herbs into the Vitamix, powdered it, and now he has a wonderful mix for his needs too. Since we aren't drinking teas right now, the dried herbs are working well for us. I add 1/2 teaspoon of powdered herbs to our morning green juices or smoothies, and we feel fortified throughout the day. I've saved money and feel empowered. It's a good feeling to use what's on hand.

Talking with Rose about this subject, she mentioned how simple it is to live minimally, yet to feel abundance at the same time. It's all in our intention, attitudes, our gratitude, and appreciation. Keeping new practices uncomplicated really helps me with being successful by taking small steps that make an impact over time, and by making use of what we have.

With a knife and a cutting board, the adventure of raw food eating can begin! This level needs no dehydrator, blender, or food processor. It's simple, easy, beneficial, and affordable. And there's always foraging for wild edibles—gifts of the earth—fruits, greens, and berries which are completely free for the time it takes to pick. This year plantain is the new herb that I can now identify, along with dandelion, horsetail, nettles, clover, miners leaf, and red raspberry leaf. Plantain is powerful and strengthening, and my body loves it.

When people want to learn how to eat raw food, it's great to start right where you are! With summer's abundant fruits and veggies, it's so easy to make salads, blend up an amazing array of smoothies (many recipes are in the archive, and hundreds more are online), make juices, yummy no-fat salad dressings with whole ingredients, and savory raw soups. These foods are the cleanest of the raw foods, ones that will help purify the body, and nourish on deep levels. Fruits, berries, and melons are cleansers, and greens—including wild greens, sprouts, and seaweeds—are builders, being mineral rich and full of amino acids, the building blocks for protein. Soaked nuts and seeds provide healthy fats, and a variety of textures and tastes.

The most important thing is to just start with what we actually have and fill in from there. To overcome inertia and begin, no matter how small that first step may be. This action opens the flow and more will come. Through time, energy, love, sharing, savoring the beauty around us, and helping others, the many gifts of our life take flight.