We've had an unusually quiet holiday this year. We know that for others though, finding time to rest and recoup in the middle of all the activities can be a precious gift. Here are two easy to make, delicious drinks that will be appreciated when energy slacks—they're sure to revive and bring comfort, to restore the body and emotions before heading out to the next event.

Sweet Treat Tea is delightful—it's both tea and a snack combined. Make your favorite decaf chai, or spice tea, add a little almond milk, a few cashews, and one chopped Medjool date per cup. Voila! You've got a drink-snack to warm and nourish.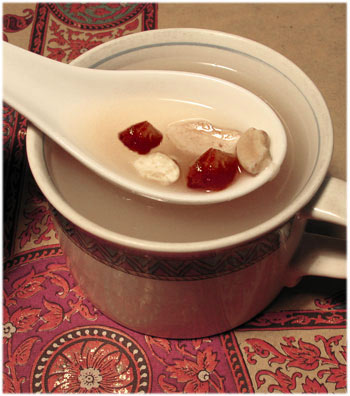 Ingredients: Makes 4 cups
4 cups pure water
1 tablespoon favorite chai, ashwaganda, or spice tea (use a combination of cinnamon, clove, anise, ginger, etc.)
1/8 cup almond milk (or your favorite), per cup, optional
2 tablespoons raw cashews, per cup
1 Medjool date, chopped, per cup

Directions
Put loose tea (or bags) into tea pot. Bring water to almost a boil, and pour into teapot. Steep for a few minutes. Pour (straining if you use loose tea) into cups, then add goodies and eat with a spoon. It's yummy!

Apple-Cucumber-Lime Juice
This juice is a beautiful pale green, and delicious too! It's simple and refreshing, and just the thing for a late afternoon pick-me-up. It's also a great balancer for over-eating during the holidays, and a good thing to drink before going out to dinner because it will curb hunger. We've read in David Wolfe's Eating for Beauty, that silica-rich cucumber is wonderful for the skin, hair, nails, and more—a real natural beauty aid to help the skin glow.

Ingredients: Makes two 12 ounce glasses
1/2 cup pure water
1/2 cucumber (about 1 and 1/4 cups, cut into pieces)
2 apples, cores removed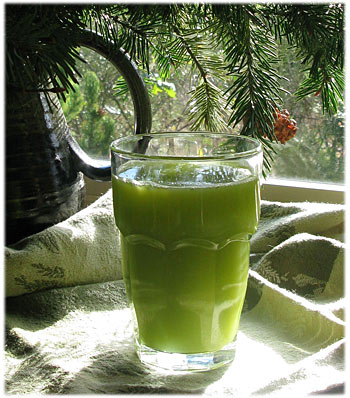 2 stalks celery, optional, chopped
1 lime, peeled

Directions
Rinse cucumber, apple, and optional celery, under cool running water.
Peel cucumber if desired. (I find the burp factor goes away when I peel it.) Chop celery.
Quarter and core apples—leave on skins. Chop into chunks.
Peel lime with a knife, and cut into quarters. (Tip: I cut the bottom rind off first, then set the lime down on the cutting board, holding it with one hand securely, then carefully cutting away the rind with the other hand.)
Put all ingredients into a VitaMix, and blend on highest speed for 20 seconds.
Strain through a nut milk bag. Or, push ingredients through a juicer and add water.
Drink immediately and savor the gift of life! We are always, always, glad when we make juice!

We recently viewed a
YouTube video
with amazing footage about Tippi, a girl who fearlessly grew up in the bush in South Africa. It shows her playing with leopards and snakes, walking up an elephant's trunk, and more. This inspiring video spoke directly to my heart about living a life without fear.

Day to day applications of living within the sacred agreement of love (and not fear), range from lesser lessons of working through resistance—like my recent fumblings at joining Facebook—to more challenging applications of how to maintain peace within my heart when people we love are struggling or facing serious health challenges. How do we live without fear in these situations? How can we take action, yet maintain a presence for upliftment?

For me, it's a learning process, a kind of ongoing training, and the "primer" is found within my heart. After all, most of us have been taught since our childhood to be fearful of others, and to try to avoid life's most difficult situations. Every day there are little tests. Sometimes I "fail", many times I succeed. In both instances, I'm learning. This retraining can take time, and on occasion it happens in an instant. The old patterns stay active until we see them with awareness, desire to make a change, and then start to lay in new pathways and practices for a more joyful life.

In closing, as we move into our fourth year, we want to thank you all for being a part of The Healing Feast! Having the privilege of creating this blog all these years has helped to keep my mind focused on love—and this has been an amazing gift.

May this coming year be filled to the brim with dreams from your heart!
We'll sign off 2010 with this little poem:
Gentle snow falls,
as whispers of prayers linger on branches.
Love spreads into the world, soft and hushed.