This yummy fruit sorbet has the smoothest texture that just melts in our mouths. It's made from frozen strawberries and bananas, whipped up in the food processor, and topped with a few honey-glazed walnuts to add delightful crunch. Enjoy sorbet for a light and simple dessert, or for breakfast or a snack. Anytime is a good time for sorbet!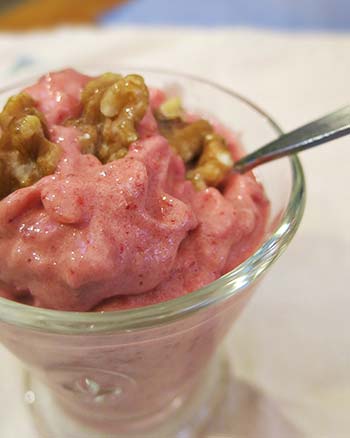 Ingredients: Serves 4
4 bananas, sliced and frozen (use more if bananas are small)
3 cups strawberries, frozen
12 walnut halves
1-2 teaspoons honey

Directions
Freeze fruits overnight, or buy already frozen berries.
Allow to soften for about 30-60 minutes before putting into food processor.
Pulse to break apart fruit, then run processor to desired smoothness.
Transfer to serving bowls.
Put walnuts into a bowl, add honey, and mix well to evenly coat.
Place three halves on top of each serving.
Eat immediately!

Variation:
Use a mix of berries—strawberries, blueberries, cherries (pitted!), and raspberries. This is amazingly delicious too!

Rex and I went to a spiritual discussion recently about finding joy in the lessons of life. It was wonderful to hear all of the comments about how people connect to that deep place within, where joy bubbles up spontaneously, and with ease. And, how the hard life lessons teach us so much, like tough love, and help us to be more compassionate and humble, and to appreciate what we've been given. This includes the profound truth of our very existence.

Joy comes in so many shapes and sizes. What are things that bring you joy? Is it through food, love, animals, nature, music, art, or people? How do you remember joy in those difficult patches? Or perhaps, there is a surge of joy that comes after the hard time is over, when the lessons are clear, and gratitude comes back in. Then, life is seen again for the gift that it truly is.

For me, fear and a lack of gratitude are real joy blockers, and when those emotions and states of mind are present it's a signal to look at what's going on and make adjustments. Of course the ego resists! But it's all good in the end.

I wrote a poem for Temple Food that's about joy, and that "we are the smile of God". To contemplate upon this idea warms me through and through. Keeping a gratitude journal, being mindful of joy and all the goodness that comes is a beautiful practice, and it builds upon itself, like a golden spiral that lifts me into higher and higher realms of light and love!

We'll close The Healing Feast with the whole poem on Joy, along with the accompanying images from the book. May all joy be yours!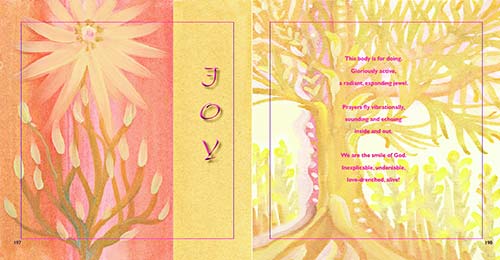 This body is for doing.
Gloriously active,
a radiant, expanding jewel.

Prayers fly vibrationally,
sounding and echoing
inside and out.

We are the smile of God.
Inexplicable, undeniable,
love-drenched, alive!