Our lives,
so seemingly small,
ripple out
to the whole universe
as tiny whispers
like the sounds
of butterfly wings,
and the clear voice
of the living truth.
-J.L.D.


It was four days past Christmas, and I woke up with a craving for a strawberry smoothie for breakfast. Thanks to our friend, Eliza Buck, who in the late summer had invited us to her garden to pick strawberries, there were two large bags in the freezer ready to use. Needless to say, we were thrilled. This brought back memories of a beautiful time spent plucking rosy red berries from the warm, fertile earth.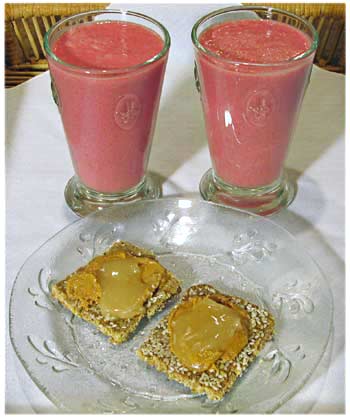 I mixed the berries up with almond milk and some strengthening superfoods, and teamed the smoothie with slices of our
buckwheat bread
(complete in all amino acids), topped with nut butter and creamed honey.

Ingredients:
2 cups strawberries
Antioxidant, antiinflammatory, Vitamin C
1 cup almond milk
Calcium, Magnesium, Folic acid, Vitamin E, and phytochemicals
1 cup pure water
Essential for life!
1 tablespoon hemp seeds
Protein - all the essential amino acids, Omega 3 EFA's, lecithin
1 tablespoon ground chia seeds
Protein - great for digestion and stamina, slows sugar intake, Omega 3
1 teaspoon bee pollen
RNA, DNA, 22 amino acids, Vitamin C, B-complex, folic acid, enzymes, antioxidants, protein, and more!
1 teaspoon rose hip powder
Vitamin C
1/2 teaspoon acai powder
Super antioxidant, antibacterial, anthocyanins, Vitamins A & E
1 Medjool date
Dietary fiber, potassium, carbohydrates

Blend all ingredients in Vitamix or blender until creamy smooth.

Our favorite superfood sources are:
Mountain Rose Herbs
Natural Zing
Raw Food World
Sun Organics

A Little Story: Superfood Breakfast

Now that the new year has begun, it's a good time to take stock and align with what we've been aspiring to accomplish. Birthdays and new years always help me with this process. Now that I'm stronger, I've set some goals—a daily yoga practice is one of them.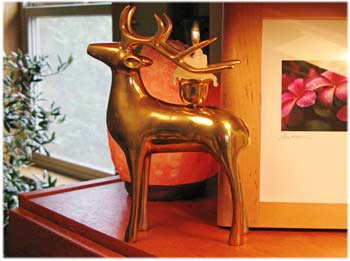 One of our ways to know how well food is working for us is simply to watch how we feel after eating. We ask ourselves, are we tired, is our skin clear one to three days later, are we emotional, gaining weight, having trouble with brain fog, and is our digestion working well? On the flip side, are we happy, full of energy, and interested in life? The right food can definitely lift us up.

Strawberry smoothies with buckwheat bread with nut butter and honey is, according to Rex, "dangerously good", and is a power packed breakfast—in short, a delicious little healing feast. This is pure food to nourish us as we feel and respond to the longing within to manifest the impulses of creation that are beating in our hearts.

In this light, our friend,
Donna Savage
, author of
The Man and the Shark, A Modern Day Fable of Awakening and Rebirth
—sent us this inspirational and emotionally moving
link
—a glimpse of a world dream, a vision for 2010 that deeply resonated with us—enjoy!