We enjoy making our own sprinkles to add to soups and salads. Simply thin-slice veggies, dehydrate, and transform them into flakes or powders to add vibrant tastes and texture to meals! Photo shows our favorite mix of red bell pepper and onions before grinding into powder. Walla Walla onions that show up in late summer are the best to use if you can find them because they're the very mildest of all onions.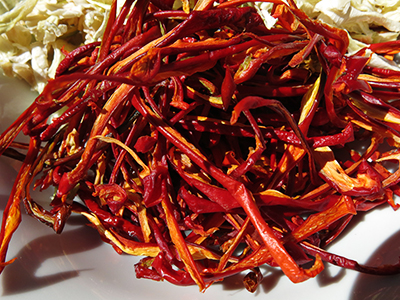 Greens can also be dehydrated for nutrient-dense minerals, with an earthy taste. When you find super fresh kale, collards, spinach, dandelion greens, or chard, bring them home and dry to add to broths, miso soup, or to sprinkle on salads or sandwiches. (See the archive for some lovely raw bread recipes!) Then, enjoy and savor the goodness, and the peaceful feelings and happiness that deep nutrition brings.

Greens only take a few hours to dehydrate too, making the process fast and easy. For more ideas on how to use sprinkles, here's another post about them with
Nori Rolls
for the most delicious meal!

Rex and Janet's Favorite Sprinkles: Make a mix of half and half
Sweet yellow onions (or Walla Walla onions, or leeks, or green onions)
Red bell pepper
Garlic cloves
A shake of chipotle powder for the most amazing taste and sizzling hot spice!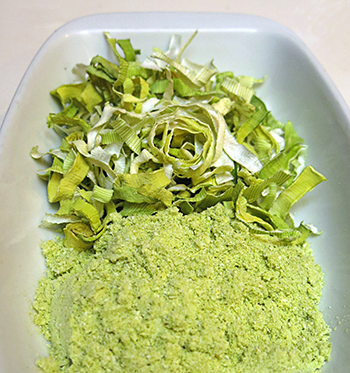 Beautiful dried and powdered Leeks—
what amazing aroma & flavor!
For Full Spectrum Sprinkles: Use your intuition for amounts. Have fun, and enjoy the creative process!
Red bell pepper
Sweet yellow onions, and/or leeks, or green onions
Carrots
Parsnips (not too much—they have strong flavor)
Kale
Spinach
Chard
Collards
Zucchini
Garlic cloves
Rosemary
Wild edibles from foraging
Seaweed
Any other veggies of your choice

Directions for Making Sprinkles:
Clean veggies, peel skin off onions, remove seeds from bell pepper.
Slice thinly.
Arrange on dehydrator trays. Set temperature to 115 degrees.
If using other veggies, slice thinly and place on dehydrator trays.
Dehydrate for about 10 hours. (Less time if doing greens—just a few hours.)
After dry, let sit overnight, or during the day to make sure all of the internal moisture is gone... it comes up to the surface if it's there. If they still feel at all moist, continue to dehydrate.
Remove from trays. Put into blender to powder. Greens can be crushed by hand for flakes, or powdered in blender with other veggies.
Transfer to glass jars with lids. Store in fridge, although I like to keep smaller amounts on the dining room table to add to meals as desired.

To Make Instant Broth:
Use one tablespoon of sprinkles per cup of warmed water. I don't add salt, but if you want it salty try adding nori or dulse flakes, or your favorite seaweed for a dose of amazing ocean minerals before reaching for the salt shaker, miso, or Coconut Aminos.

The Little Story:Peace And Calm

My beautiful and inspired friend, Hilde Larsen, raw foodist and detoxification specialist trained by Dr. Robert Morse, gathers wild edibles from her homeland in Norway during the spring, summer, and fall, to dry and make healing powders for the winter months. The power of wild greens in unsurpassed—like seaweed—the ocean's greens! I have the added blessing in that Hilde works with me as a health coach to help guide me to reach my highest potential. You can find her at
Inspired by Hilde
.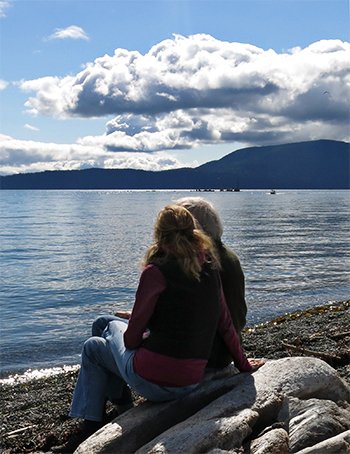 Much healing can come from cultivating peace and calm, taking time to appreciate the beauty of life which is truly everywhere! Slow foods, slowing down, sipping on tea, juice, or broth—are so important for the health of my body, mind, and Spirit. These "down" times give me energy to get back out into the flow, to be active, alert, and fully engaged.

I need the balance between stimulation and restoration. Like the sun and moon, and tides that pulse and ebb. Every breath and my beating heart cycle on and off. Nature blossoms, then rests, in the rhythms of our days and years.

Speaking of restoration, Rex and I had the most wonderful day on Lummi island (just an hour from where we live) for my birthday celebration, and it was glorious, a special gift, shared with a dear friend, Peg J. Rasband. Thanks for the love, and for being a part of this most magical time!

It was a completely unstructured day, and we intuitively traveled around the island, visiting various artists in their studios because we had the good fortune to partake in the artist's studio tour that was happening that weekend. Every place we visited had qualities and feelings of beautiful energies that continued to surprise and take our breath away—and the light was just stunning. And, there was a lot of deep and heartfelt laughter, and good food at the cutest
Beach Store Cafe
. (Photo of Rex and me by Peg.)
Restoration
(From
Temple Food
)
A sigh,
a smile that rises with the dawn,
relief beyond measure,
nourishment that falls like rain, softly and gently into the hungry heart.
The fluid energy moves through blood and bones,
as a river of lifeforce that is carried on the tides of self care.
In a moment of silence,
the breath comes and goes in full body breathing,
reaches to the stars and cascades back—
while feet rest securely upon the earth
and the mind opens and expands to the heavens.
I drink the waters of a new birth,
from a source without end.
It is a bottomless well of renewal and rejuvenation
that fills me, holy and clean,
sanctifying my being,
blessing Soul.