We're passionate about our sprout salads, shown here with some of the ingredients we might use on any given day. Starting at the top moving clockwise you'll see sunflower greens (also shown in the photo below), sprouted mung beans and lentils, sprouted buckwheat groats,
French Green sprout mix
, microgreens we get from the farmers market, and
Ocean Ribbons sea greens
. Rex and I think you'll be amazed with this restaurant-quality dish—the flavors are a total surprise!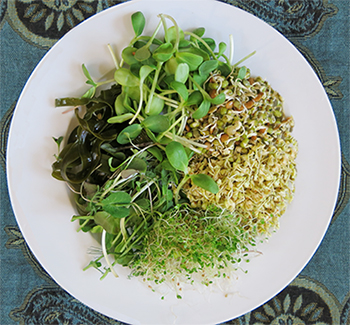 We combine these ingredients with other favorites like
sundried tomatoes
, goji berries, and delicate salad greens for the most unique, filling, life-filled lunch or dinner. Top with paprika,
celery "salt"
(simply dehydrated, ground celery), a tiny drizzle of toasted sesame seed oil, and a little balsamic vinegar, or lemon or lime juice, your favorite dressing, or the Coconut-Lime Dressing below.

Ingredients: Makes 2 dinner salads
1 cup sprouted buckwheat groats (start with 1/3 cup dry seed)
1 cup sprouted mung beans combined with some French Blue and Red lentils (start with 1/4 cup dry seed)
Ocean Ribbons seaweed, medium handful, dry, then soaked—will expand
1/2 cup mixed sunflower and microgreens of your choice
6-8
sundried tomatoes
, soaked to soften—or use oil cured sundried tomatoes in a jar
3-4 tablespoons goji berries, soaked for a minute to soften, if needed

Coconut-Lime Dressing:
2 tablespoons coconut cream
1/4 cup pure water
1 whole peeled lime
2 dates
1 clove garlic
Blend all ingredients until smooth and creamy.

About Sprouting!
Directions may look complicated, but after you've gone through the process even one time it will be a snap to do again! Rex and I feel that the 3-5 minutes it takes to rinse and drain sprouts is utterly worthwhile because of the benefits of growing our own food in the kitchen. We save money, reduce our carbon footprint, and have the freshest living food imaginable in just 2-3 days! Buckwheat groats, mung beans, and lentils, are very easy to sprout. If money is tight, use any glass jar you have for soaking and sprouting, with nylon mesh cut to size, attached with a strong rubber band.

Directions for Sprouting Mung Beans with Lentils:
Make a mix of 3/4 mung beans to 1/4 lentils.
Put mung beans/lentil mix into a one quart mason jar filled to the top with pure water and soak for 8 hours.
Drain, using the mesh sprouting lid attached, and rinse a 2nd time and drain well.
Set jar upside down and at an angle for best results—a dish rack works perfectly.
Rinse and drain twice daily. Sprout tails should be about 1/4" long before using.
Refrigerated they will last 4-5 days.

Directions for Sprouting Buckwheat Groats:
I use the strainer method which works much better than using a mason jar. Plastic mesh strainers are great because they are flexible so that the sprouts can be shifted around when rinsing, resulting in better washed, happier sprouts. Plastic strainers are also less expensive than the stainless steel variety. Make sure jars are clean. Buy organic seeds. We get mung beans, lentils, and buckwheat groats at our local Coop. Make sure lentils are whole, not split.

Soak buckwheat groats for 30-60 minutes in a one quart mason jar filled to the top with pure water.
Pour contents into a large strainer.
Rinse well under cool, not cold, running tap water. I like to give a final rinse with pure water.
Drain well, and loosely cover with a plastic bag to allow air circulation.
Set the strainer on top of a bowl so that the buckwheat at the bottom of the strainer can breathe.
IMPORTANT:
To get all the slippery substance off the groats (not good for humans), fill a large bowl with water, put the strainer in and jiggle while the water continues to run into the bowl for about 30 seconds. Really jiggle sprouts around as much as possible. Drain and rinse with pure water, and drain well.
Set strainer, loosely covered (or not, if you're home and can check on them for dryness) sitting on top of the rinsing bowl to continue sprouting. Will be ready in two, sometimes three, days if your house is chilly. Sprout tails should be about 1/4" long before eating. Refrigerated, they will last for 3-4 days.

Directions for Salad
Soak Ocean Ribbons for one hour or until soft. Rinse and drain, and transfer to a salad bowl.
Rinse all sprouts and microgreens. Drain well, and add to bowl.
Add in sundried tomatoes, goji berries, green onions, and any other ingredients you wish to have in your salad.
Mix ingredients well.
Sprinkle on spices, and drizzle on your dressing of choice.

The Little Story: Raw Food Then And Now—Our Daily Diet, and My New Book!

Over the last fourteen years that Rex and I have been eating raw and living foods, out diet has changed considerably. As many of you may remember from previous posts, when we first got started in 2001 there was an emotional need and an attachment to cooked foods such as rice, quinoa, pasta, beans, potatoes, tofu, grilled veggies, simmered soups, toast, stir fry, bread, and more. To allow us to move forward while experiencing as little discomfort as possible as we received all the benefits of raw cuisine, I created three-course raw food meals that included a salad, entree, and desert, which we greatly enjoyed.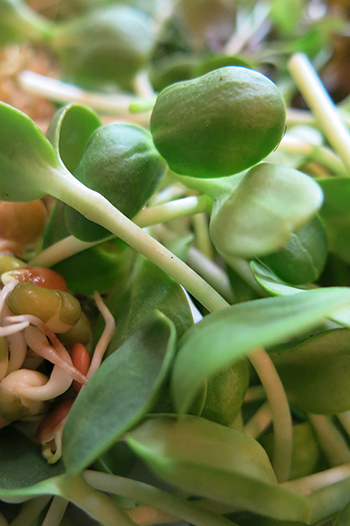 Even though we were excited and felt strongly about setting out on our raw food adventure, there was resistance. It came from a subtle, underlying fear about really changing, letting go, and taking what felt like a big leap of faith—and from a feeling that we would be deprived of our favorite foods. Fortunately we overcame the fear and resistance, and started a journey that has changed us profoundly. We also found that most of the food cravings quietly dropped away over the years, although not completely—maybe they never really leave for good. Do we still eat cooked foods? Yes, on occasion—life is to be enjoyed!

Now, when a new level arrives it's cause for excitement and celebration, because we know that our bodies are ready to take another step, and that our food choices will be moving up a notch. The biggest shift for us in the last few years has been the inclusion of sprouts—true living food. We're eating about twenty different kinds of sprouts now—from green sprout mixes, sprouted grain mixes, sprouted legume mixes, and we love them! This provides a dynamic range of nutrients for our daily fare, and high quality protein.

Our Daily Fare
I thought it might be helpful to share our food choices for a typical day at "Chez Doane's". In our early raw food days, I intensely studied the raw food gurus to learn as much as possible about what they ate, trying to emulate their diets as best I could. Early inspiration came from Alissa Cohen, Storm and Jinjee of The Garden Diet, the Boutenko family, and David Wolfe (before he got into marketing products). Raw food was not as popular as it is now, with an abundance of information everywhere. Yet sprouts still elude most people, and we hope this will change, because they contain amazing properties including plant growth hormones that are very beneficial to humans for cellular rejuvenation, as well as enzymes, phytonutrients, and so much more.

So here's the lineup. Note: You can take the general food, say Green Smoothie, and go into the archive and type that in to find recipes for green smoothies. Same for soups, salads, pasta, and so forth.

Morning Meal—any one of the following:
* Green smoothie with tons of spinach, romaine, other greens, etc., and fruit. Sometimes we add a tablespoon or two of Healthforce Nutritionals
Spirulina Manna
or another green powder such as
Best Organic Wheatgrass
that uses both the tops and roots of wheatgrass. It's grown hydroponically, dried at a low temperature, and in our opinion is an excellent product with extremely high energy and potency. Comes in handy packets that are so easy to take to work or when traveling. And it tastes good too.
* Fruit smoothie of blueberries, bananas, Black Mission figs, with some hemp seeds, optional.
* Sprouted grain smoothie made with strengthening
Amber Waves of Grain, or Oats & Groats
, from the Sprout People, with bananas, mangoes, and Calimyrna figs. (Food combining charts say that sweet fruits combine well with sprouted grains.)
* Fresh juice.
* Fresh fruit.

Lunch—any one of the following:
* Sprout salad.
* Green salad.
* Nori roll stuffed with green sprouts (French Green Mix from the Sprout People), shredded cabbage, green onions, goji berries, and a little avocado.

Dinner—any one of the following:
* Zucchini pasta.
* Green salad.
* Blended warmed soup—spicy, or herbed.
* Fresh juice.
* Smoothie.
* Blended fruit puddings.

If raw food is calling to you, then begin! Start like we did with one raw food meal a day and watch the changes happen—they can be miraculous! Add in more raw food as confidence and understanding grow. This has everything to do with intuitive eating and food preparation, and the transformation process that the body-mind-spirit experiences, such as an amazing lightness of being!

Listen to the subtle suggestions the body gives, to ideas that pop in through the intuition and imagination, and proceed with trust, knowing that a delicious, healing, energizing meal will soon be manifesting before your very eyes! Once the inertia is overcome the energy begins to flow and inner guidance comes through. "Bad days," when detoxification happens, either physically, mentally, or emotionally, are the releasing of the old patterns and toxins, so be gentle during these times. Take extra care with self love. The "old you" is leaving so that the new you can begin. Go slowly, and move at your own pace. It's taken us many years to get to where we are now. Some people move quickly, while others, like Rex and myself, have taken a slower route. It's all good!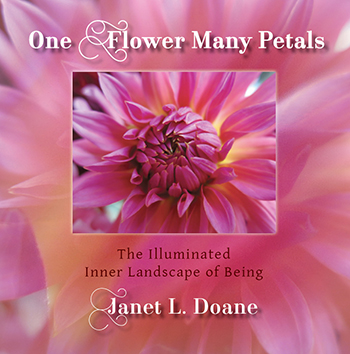 I want to share with you my new book, One Flower Many Petals!
Last summer, Rex brought home a beautiful bouquet of dahlias to celebrate our anniversary. They were so lovely, with colors that radiated like the sun, I snapped a few photos to commemorate the special gift and our day.

A month later the phrase, "one flower many petals," dropped into my mind with accompanying goose bumps, and I wondered what this could possibly be. It had a feeling that a new book had arrived, and that it might be a collection of spiritual poems, something I'd wanted to do for quite some time.

As I contemplated on the title I wondered if I had a photo of a flower that I could use for this yet-unformed collection, one single flower image to turn into a series of crops using Photoshop so that every photo would look different—yet would create a visual continuity throughout the book.

You guessed it—the photo I took of the bouquet proved to be the one, a gem. I got about ninety crops from it, and chose the best to use for the book. Teaming the images with poetry was an intuitive process and I had the most wonderful time—it was pure joy.

Now it's a commemorative book to celebrate the love that Rex and I have shared for so many years, and something you might like to share with friends, or mothers, who love flowers and spiritual poetry.

May all blessings be!

Here's a poem from the book. (Available at Amazon.)

Oh flower,
you have carried me
into the core of your message,
where heaven and earth are joined as one.

I breathe the consciousness
of your being,
and in whispers
of the singing sound
I touch the holy fabric of your life.

Wisdom roots have become pathways
through fields of light,
and darkness is transmuted.

All the while you await,
breathing with me,
as the secret language
of wordless communication
travels through the divine impulse,
like drops of rain
on a golden thread,
wrapped around my heart.