We enjoy a mildly tangy, lemony tasting, enzyme-rich drink called rejuvelac, that we first learned about in Ann Wigmore's book,
The Sprouting Book
. It's made from wheat berries in three easy steps—soaking, sprouting, and fermenting.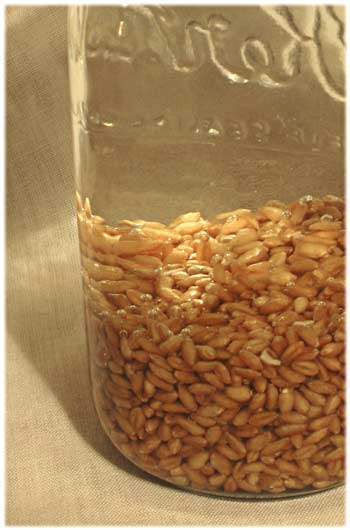 From start to finish, a quart can be made in 36-48 hours, and we've found that the wheat berries can be reused again and again. Rejuvelac is ready when it's slightly bubbly, has a sweet lemony scent, and is slightly "cloudy".

There are variations on how to make rejuvelac, and this is our version that we've made many times with success. Use rejuvelac in soups and smoothies, or drink between meals to flood the body with friendly flora, vitamins, and enzymes.

Ingredients:
1/2 cup of organic
wheat berries
3 1/2 cups pure water
1 capful starter (optional, see below)

Directions:
Start the rejuvelac in the morning.
Place wheat berries in a one quart mason jar with sprouting lid.
Fill to the top with pure water and stir.
Cover with lid, and allow to sit at room temperature for one day.
Drain off water in the evening. Rinse with pure water, and drain again.
Let wheat sprout overnight with the jar turned upside down.
In the morning, you'll see tiny sprouts. Rinse well with pure water, and drain.
Fill jar to the top with pure water and let sit for one day at room temperature.
Rejuvelac will be ready in 12-24 hours.
Refrigerate.

After pouring off the amount you want to drink, refill the jar with pure water, and put in the fridge. Fermentation will continue. Important! Eventually the wheat berries will be spent, or, the rejuvelac may develop an unpleasant odor. Discard and start a new batch.

Starter:
If you're uneasy about making fermented foods, you can use a starter.
Body Ecology
offers a marvelous drink called
Whole Grain Biotic
, made from fermented grains, and other ingredients. The friendly flora in the drink love wheat, so for those with wheat allergies,
Whole Grain Biotic
can help to digest wheat. (We'll let you know how it goes!) For now, we use a capful as a starter when we begin a fresh batch of rejuvelac (but don't add it later when refilling the jar). It imparts a delicious taste, and ensures safe fermentation. With or without the starter, rejuvelac will work.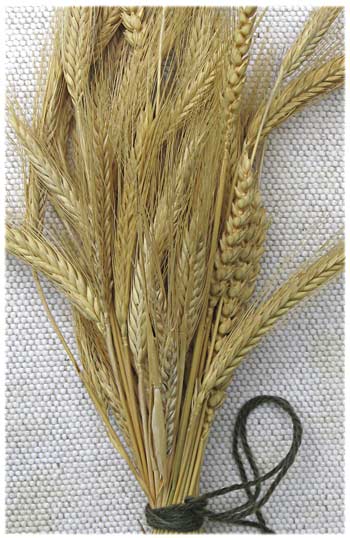 Even though we're still unable to eat a lot of wheat, we find that rejuvelac and wheat grass juice cause no problems. Wheat has a high vibration, and we're delighted to find forms of this food that are compatible with our bodies.

As I write, the hauntingly beautiful song,
Fields of Gold
, by Sting (when the lovers lay among the fields of barley, wheat's close cousin), has risen in my mind.

You'll remember me when the west wind moves
Upon the fields of barley
You'll forget the sun in his jealous sky
As we walk in fields of gold



So she took her love
For to gaze awhile
Upon the fields of barley
In his arms she fell as her hair came down
Among the fields of gold...

Both barley and wheat bend and sway in the warm breezes and cool nights of the growing season, ripening by day under the sun at the end of summer. We reap the shafts of wheat, infused by the golden light, and the food nourishes our bodies for days to come.