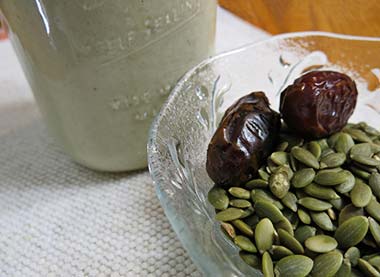 This milk is so easy to make, tastes yummy, and Rex and I find it restorative. Simply soak dry seeds in water, and let them sprout for another day. They really don't get tails on them, but the seeds become softer and sweeter. Blend with dates, and your milk is ready to go. Delicious by itself, or add to smoothies, or top off teas that do well with a little milk. We like to make ashwaganda tea, and the pumpkin seed milk tastes really good with it.

Ingredients: Makes 1 quart
1/3 cup dry pumpkin seeds
Pure water to soak seeds
1 quart pure water for blending
2 Medjool dates
Optional ingredient: vanilla extract

Directions:
Put pumpkin seeds in 2 cups pure water for about 8 hours.
Drain and rinse well. Allow to sit for another 8 or so hours.
Rinse and drain before making milk.
Put soaked/sprouted seeds in a Vitamix or blender with dates.
Add 1 & 1/2 cups pure water, and blend on high speed to make a thick cream.
When smooth and creamy, add remaining water and buzz to mix.
Transfer to a jar, cover, and store in fridge. Will last several days.

Ashwaganda Tea
1/2 teaspoon ashwaganda powder to one cup hot water. Top off with pumpkin seed milk.
Ashwaganda is a wonderful adaptagen herb, and from what we've read, is great for nourishing adrenal glands.

The Little Story: Restoration (From Temple Food)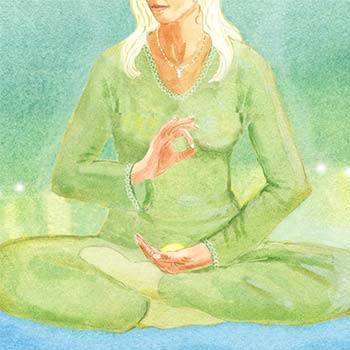 The dove of deep peace, whose feathers lift my spirit,
delivers me to a place of wholeness,
to a grassy meadow where the wind blows free.
And the chalice of the heart is brimming
with liquid illumination and joy.

Of this radiance I drink, and drink, and drink.
My thirst is startling, and I take in even more.

The light spills over,
flooding my being, restoring faith.
Passion flows into the world,
creating acts of service to mankind.

The cup of restoration is never empty,
it is forever full.

For this, I whisper, thank you,
again and again.