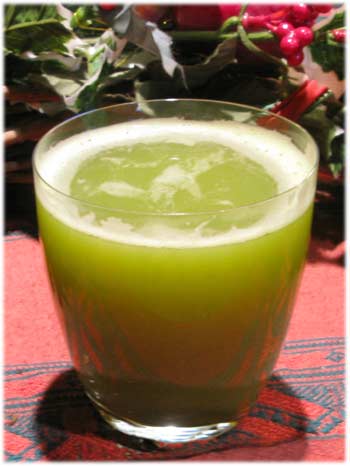 Rex and I were feeling heavy and draggy for several days after returning from a recent trip to Irvine, California, where we visited with our son and daughter-in-law, Patrick and Ruth.

We were wondering what to do about the tiredness when intuition suggested that I look at one of David Wolfe's books, Eating for Beauty. My eye glanced upon a simple juice recipe which lit up to try. We hadn't been juicing for awhile, and were getting intuitive nudges that it was time to renew our practice, but we wanted to use our Vitamix instead of the Green Star juicer, and we wanted to dilute the juice with water.

Making the juice in the Vitamix was so simple and fast. In just five minutes flat we were enjoying a mineral rich drink—and it really did the trick! The brain fog lifted, and energy began to flow. We felt motivated, and creativity kick-started. We'll never again doubt the power of fresh juice! Now we have a way to juice without spending 20-30 minutes preparing and juicing heaps of veggies. Plus there's almost no cleanup to do. This juice is mild, and feels better in our bodies than undiluted, full throttle juice.

Here's our adapted version of David's basic recipe:

Juice Ingredients:
Makes two 12-ounce servings
1 cup pure water
4 stalks celery, chopped
1 apple, chopped
1/2 cucumber, chopped
1 inch fresh ginger root, optional

Directions:
Wash ingredients.
Trim bottoms of celery, and chop.
Leave on the celery tops, and skins on the apple and cucumber, and chop.
Put water, celery, cucumber, ginger, and apple into Vitamix or blender. Blend on highest speed for 30-60 seconds.
Pour into
Nut Milk Bag
(place the bag in a one quart Pyrex measuring cup) and squeeze out liquid.
Drink immediately, and feel the gentle, nurturing rush of natural energy!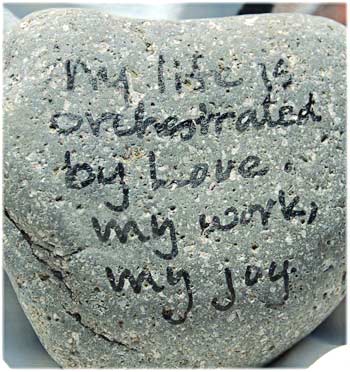 I've been contemplating on becoming a clearer channel for love—having my heart open, living without preconceived beliefs, releasing fears, letting go any limiting thoughts, and developing a greater understanding the true nature of Soul, the deepest part of my being.

I'm learning more and more that if my consciousness is clouded in any way, then that cloudiness acts like a film that colors everything I see, experience, and do. This covering dampens the light of love and understanding that otherwise would shine through with greater intensity.

One of my goals has been to realize the gift of healing on all levels, to be in the world, whole and complete, where all my actions, thoughts, and emotions resonate as manifestations of beauty and love.

As the year draws to a close, this dream continues to inspire and lead the way to greater acts of service, creativity, and expression. It's the foundation that draws me ever nearer to the Greatest of all Love.