What would summer be like without the abundance of fruitd with their glorious colors, tastes, textures and fragrances? At the farmers market, a basket of plums called to us. Freshly picked by a group of sunny-faced youth, we couldn't resist bringing some home.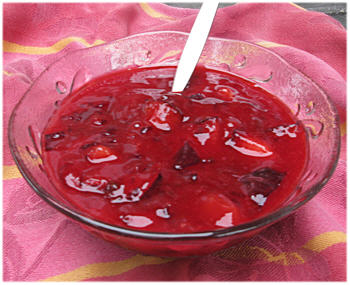 Raw fruit jams are so easy to make! Use jams on your favorite dishes, like
banana ice cream
or yoghurt or
seed cheese
, or eat it right out of the bowl for a little treat. To make sure the jams stay fresh, make them in small batches. Store in the fridge, tightly covered, for several days.

Ingredients: makes 1 cup
6-8 ripe plums
3 tablespoons raisins
1/4 teaspoon cinnamon
1 tiny shake clove
2 teaspoons raw honey or agave nectar

Directions:
Rinse plums under cool water.
Slice plums, removing pits. Leave tangy skin on for mouth watering taste.
Put 2/3 in blender or food processor with spices and sweetener and puree to desired texture.
Chop remaining 1/3 into small pieces. Add to puree and mix with a spoon.

Try making mango, peach, blueberry, or blackberry jams and savor the tastes of heaven!

A Little Story: Embracing What Works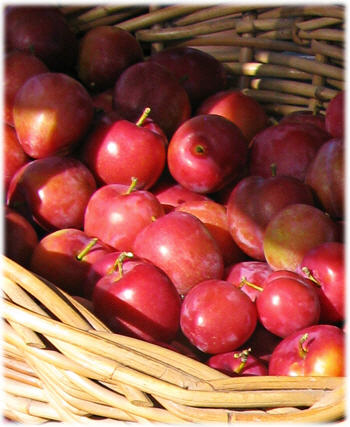 These days, for some reason, making juice isn't working for us. It's not the juice—which we love to drink—it's the preparation and cleanup time. But nutrient dense bee pollen and Vitamineral Green drinks are working beautifully. In two minutes or less they're ready—no fuss, no mess!

It came to me that if we don't really want to do a certain kind of raw food preparation, or if there isn't enough time, it isn't going to happen that often. So why beat ourselves up about not making juice every day when the alternative is so simple and makes us feel great?

For us, an important approach is the one that embraces the health practices that are actually working—"disciplines" that excite us to do them often enough to bring results, actions that make us happy!

So whether it's making raw jams, drinking green smoothies, or starting an exercise regime, these activities fill us with a sense of well being.

We're finding that the energy gained from embracing what works, quickly becomes a platform for us to evolve and take our next step to experience new levels of health and freedom.

And once done, there's a delicious feeling of accomplishment and joy—life's natural reward!