This salad is a delicious meal to have following a morning of juicing, or after slogging away in the garage throwing out the dross. The freshness and beauty of color that mirrors the glowing colors of spring are a sure way to lift our spirits, and help us to get into the groove of the new season. The salad is a mix of spring greens and cleansing cabbage, which adds crunch and minerals. Together, the guacamole and greens make a satisfying and filling lunch. Add a few olives (unsalted, dried olives in our photo), or thinly sliced crudites made from carrots, jicima, or celery. These will add additional flavors and textures to enjoy and can be used in place of chips to dip into the guacamole.

This recipe makes a guacamole that is smooth as silk, rather than traditional chunky tomato and cilantro varieties, which we make too. It takes just minutes using a food processor, and both dishes are ready to eat within ten minutes—much faster than being served in a restaurant! This salad is a green feast of simplicity, sure to enliven the body and awaken the taste buds.
Guacamole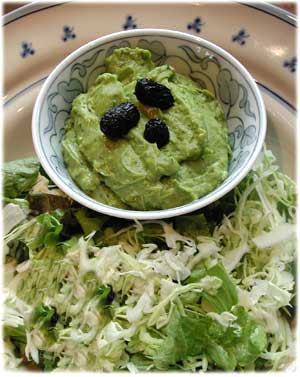 Ingredients:
2 cups California Haas avocados (2 medium or 1 and 1/2 large avocados)
4 tablespoons chopped green onion
3 tablespoons fresh squeezed lime juice
1/2-to-1 teaspoon Himalayan salt
Directions:
Peel avocados, remove pits.
Cut into bite size pieces.
Rinse green onion and chop into small pieces.
Squeeze fresh lime juice into a bowl.
Place all ingredients into food processor.
Pulse to begin mixing, then run until smooth.
Adjust seasoning if necessary.

Rinse and peel (if necessary) all veggies for crudites. Cut carrots (make sure they are super-fresh for the best flavor), and thinly slice, cutting diagonally for scooping up guacamole. Prepare other raw veggies as desired for dipping. Serve with a bed of fresh greens.
Additional Dressing
If you like, make a lemony dressing for the greens. Use 1/4 cup sweet oil, 2-3 tablespoons fresh squeezed lemon juice, 1 tablespoon unpasteurized apple cider vinegar, 1 tablespoon agave nectar, 1 clove pressed garlic, and (optional) 1/4 teaspoon Himalayan salt. Whisk all ingredients until thoroughly blended.

A Little Story: Simplifying & Purifying Our Lives

It's spring in the Northwest. For us, this means time to clean out, both internally and externally! In traditional Chinese medicine, spring is the time to cleanse the liver. Following the holidays, and the slow season of winter, after which the body can feel sluggish, spring's birthlight begins to stimulate growth and activity.

We're detoxing too, making lots of fresh juices, taking herbs to support and cleanse the liver to help it deal with heavy metals and pesticides that were recently detected by our marvelous healthcare provider. And lately, we've been trying not to eat until noon to allow the body's natural nighttime cleansing cycle to extend—a further aid to the liver.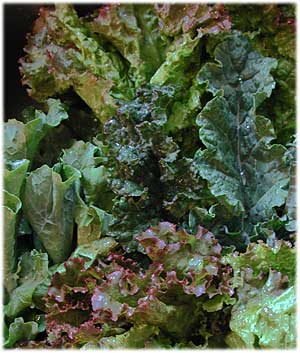 Our garage has been getting tackled as well. It's been a kind of nemesis for us! Even though we've been clearing out a lot of our things for the last fifteen years, we've still got a ways to go.

The same thing has happened with food. We've let go of so much over this same amount of time, foods that we would have liked to keep eating, but were making us ill. Changing over the years to simpler foods—foods made in record time without messy, oily cleanups—have now become the norm.

We were forced, in a sense, to go raw, because we weren't well, eating the way we had been. We had chemical sensitivities, arthritis, and a host of other smaller complaints. Having to stop eating these foods sometimes made us mad, because these were foods we loved, like breads or cooked grains. We were eating way too many carbohydrates, and not enough greens to create balance. Raw food cleared out the arthritis, and improved much of the chemical sensitivities. Now we know.

A friend of ours who is getting into this diet writes: "One thing about the whole raw process, and I think why I am enjoying going for it 100%, is because the contrast of the two lives and life styles is immediate and clear. As I was cleaning out all these things in the kitchen, I was aware of how much time and energy went into the cooked food prep (as much as I have always loved it) and for not too much payback, healthwise. There is something in this raw thing that is elegant simplicity—it's like I can breathe in the kitchen again."

So we invite you to join with us, as we breathe into spring, breathe in freshness and new life, using the sacred knowing that lies within our being to guide us day by day!

Coming next week: Sesame carrots with curry dipping sauce!