Surprise Mom on Mother's Day with this delightfully delicious, spicy fig jam, made with Black Mission figs, Flame raisins, and a little Moroccan Spice to give it pizazz. It's so easy to make—in a few minutes with the use of a blender we can whip up a batch of thick, velvety jam. We make small batches any time we want so it's always fresh. Enjoy it on your favorite bread or yoghurt. Spicy Fig Jam is shown here with our
buckwheat bread
. Makes a yummy breakfast or snack.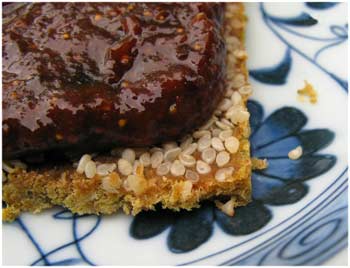 Ingredients (makes 1/2 cup jam)
1/4 cup Black Mission figs, chopped & soaked
1/4 cup Flame raisins (alternative: use Thompson seedless), soaked
3/4 cup water
1/2 teaspoon
Ras El Hanout
* Moroccan spice
Tiny pinch of Himalayan salt
*The Ras El Hanout Classic Blend of spices that we use is made by India Tree. It contains allspice, black pepper, mace, nutmeg, cardamom, ginger, cinnamon, turmeric, rosebuds, and clove.

Directions
Remove tough stems from figs. Chop into quarters.
Soak figs and raisins in water for 1-2 hours.
Place soak water, figs, raisins, and spice into blender and blend to desired texture. Scrape down mix from the sides of the blender as necessary.
Optional topping: a sprinkle of fresh coconut

Tip:
Sometimes the raisins don't blend completely, and we leave them like this because they add a delightfully chewy texture to the smoothness of the jam. If you can't find India Tree blend, make a blend using the ingredients listed above. In a pinch, use 1/4 teaspoon cinnamon, with a couple shakes of clove and nutmeg.

We went to Orcas Island this week to see one of our friends, Jess, and her daughter, Sydney, who was performing in a school jazz concert. An enrichment program had been put together by jazz artist and teacher, Willie Thomas.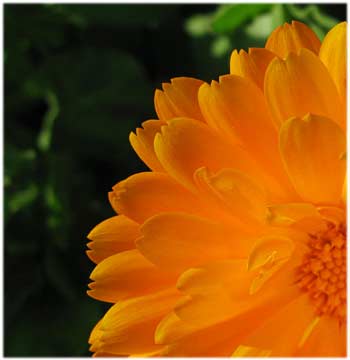 It was wonderful to see how the children's talent had been developed with tender loving care, enthusiastic teachers, dedication by the parents to help their kids do what they enjoyed, plus the work done by the children to make it all happen.

We always enjoy school performances, the energy, the audience's response, the cheers of appreciation, and the great feeling of warmth and community.

It was also easy to see that a few months or years of practice can make a big difference when developing a new skill or talent.

It got me to thinking about my own life, and how the element of time and applying myself to a task, such as developing my abilities to make raw food, or living a life based in love, builds and grows. Those awkward first steps—just as they were in my childhood—are where I often begin when learning something new.

Life truly is a garden. With nurturing, tiny seeds grow. As the petals unfold one by one toward the sun, so do we. As the flowers bloom to their full expression, so do we. And as their light shines into the world, sharing the gifts of their being, so too do we.