Ingredients (serves 2):
3-4 ears white corn, sliced off cob
1 large Hass avocado, peeled and sliced
1/4 cup tomatoes, chopped
2 tablespoons sweet mild onion, or green onion, finely chopped
2 tablespoons sweet red bell pepper, diced
2 tablespoons olive oil
2 tablespoons finely minced parsley or cilantro
1-2 tablespoons fresh lime juice
1/4 teaspoon Himalayan, or Celtic salt
1/4 teaspoon chipotle chili powder
Directions:
Remove corn leaves. Rinse, and remove any corn silk (this can be used to make tea)
Slice kernels off by holding the large end of cob in left hand, with small end touching the bottom of a large bowl.
Make sure cob is secure before cutting.
Cut carefully, keeping the blade from going in too deeply.
Add onion, red bell pepper, oil, and spices. Mix well.
Slice avocados, and place around outer edge of a plate.
Squeeze fresh lime juice over avocados.
Transfer corn into middle of avocado circle.
Top with tomatoes and parsley. Enjoy!

A Little Story: A Night To Remember! Café Bliss!

The energy was electric. Rex and I were in Victoria, BC, our old stomping grounds, at the newly opened Café Bliss, to hear a talk and meet some of our raw food mentors—amazing leaders in the raw food movement who have inspired us and motivated us to change! (Alas, we left our camera where we were staying, so no pictures were taken.)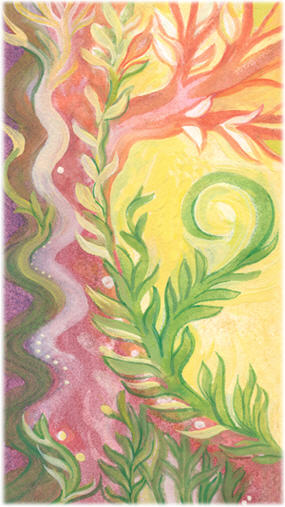 Painting by Janet Doane
Angela Stokes, the speaker for the night, gave an inspiring talk on raw food, and her profound healing journey in which she lost 160 pounds! She brought the dress she used to wear, in which two of her would now fit!
David and Katrina Rainoshek
, known for their pioneering work with juice feasting, had literally just returned from the Raw Spirit Festival in Sedona, AZ, and were greeting people at the door. (Katrina's sister, Heather Cunliffe, is a co-owner of Café Bliss.)

We had the opportunity to talk briefly with David, Katrina, and Angela, and could have sat with them for hours, soaking up their wisdom. We were in heaven, and I could barely contain myself, although Rex said I looked calm—thank goodness!

All of these people are incredibly knowledgable about raw food, and how to heal the body. They glow with gorgeous skin, radiant health, and are dedicated to making a difference. We're incredibly grateful for their presence on the planet!

You can tell when food is made with love. At Café Bliss we ate various treats all made with organic, fresh, living foods: Thai Salad with an incredible dressing, fresh juice, a green power smoothie, a flax cracker plate with almond hummus, salsa, and tapenade, a mango/coconut truffle, and a raw cacao dessert. All were superb, and the staff was so open and friendly. We give the restaurant a super Five Star rating!

We felt that we have been changed by this experience in ways that will surface over time. To be in the same room with seasoned raw foodists, to feel their energy and see how vital and astoundingly healthy they are, is sheer inspiration that fortifies our dedication to continue along this path.

Meeting some of our mentors is now real. No longer is our knowledge of them held in our imagination, wondering what it would be like to be at the same gathering with them. The inner connection is now grounded in a physical connection—a handshake from Angela, a blessing and hug from Katrina, simple conversations and smiles, all of which filled our hearts and nourished our spirits.

The bar to greater health is ever rising, with deepening states of consciousness, greater levels of loving expression, and the expansion of life through transcendent experiences that keep spiraling into the world in concentric waves of sheer bliss.