This isn't your standard coleslaw with mayonnaise, but a bright, colorful, hearty salad with a tahini dressing that makes this salad sing. Cabbage contains many vital mineral elements, and vitamin C. Rex and I have been eating variations of this salad for days, and are not tired of it yet. It's perfect for the cold, winter weather.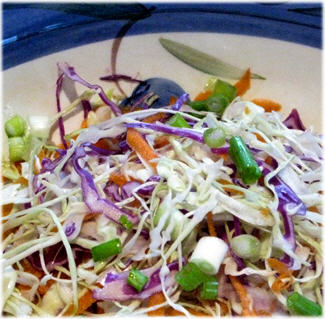 Ingredients for Cabbage Salad:
(Serves 2-4)
Use all organic ingredients whenever possible.
2 cups green cabbage, finely shredded
1/2 cup red cabbage, finely shredded
1 cup carrots, finely shredded
3-4 tablespoons green onions, finely sliced
2 tablespoons olive oil
Dash of Real Salt (or Himalayan, or Celtic)

Tahini Dressing:
3 tablespoons pure water
2 tablespoons raw tahini
2 tablespoons organic brown rice vinegar (unsweetened)
1 tablespoon raw agave nectar
1/4 teaspoon Real Salt

A Little Story: Finding New Rhythms

The beginning of the new year lends itself to thoughtful reflection on where we've been and where we're heading.

I've been in receptive mode lately, listening to, and allowing both intuition and Spirit to suggest various courses of action for this coming year. These ideas are contemplated upon to get a deeper sense of how they will impact all levels—spiritual, emotional, mental, and physical. In the past, I've sometimes forgotten to remember the all important co-partnership with the body, which is the vessel that carries out the work we decide to do.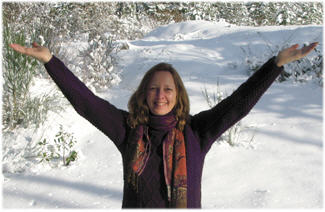 Looking back over the last several difficult weeks, we could see that our daily practice of juicing (which always makes us feel so good, and was the one thing that we probably needed to do the most) had taken a bit of a back seat for awhile. Yet over the years, we've come to know and trust that in time, cycles change, and that clarity will return with a renewed sense of well-being and focus.

The resistance falls away as easily as waking from a dream, and impulses of joyful expression begin flowing again. This is when we often find that goals that had been started are suddenly living and breathing within us once more, only now, with newer understanding, wisdom, and appreciation. This in turn carries us to the next step, the next level in our ongoing evolution!

May joyous celebrations of the heart flood your entire being in this new year.