Dates, apples, cinnamon, lemon juice, and orange zest combine to make a spicy fruit "butter". It's not the same as traditional cooked apple butter—our version is filled with live enzymes and a sweet, tangy taste for a yummy topping on our favorite raw breads, yoghurt, or seed cheese. The recipe is shown with sesame seed yoghurt, and a sprinkle of
raw buckwheat granola
.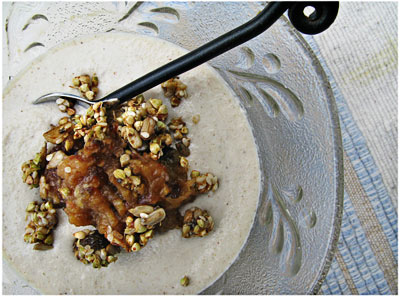 Ingredients: Serves 2-4
6-8 Medjool dates, seeds removed, soaked to soften, and chopped
1/2 cup apple: Fuji, Pink Lady, or your favorite, peeled (optional), cored, chopped
1 teaspoon orange zest (from the peel of an organic orange), minced
1 teaspoon lemon juice
1/2 teaspoon cinnamon

Directions
Soak dates to soften. This can take anywhere from 1-4 hours, depending on how dry they are. (They can be soaked overnight with just enough water to barely cover, and they'll be ready to use first thing in the morning.)
Save soak water for making sesame yoghurt.
Put dates, chopped apples, and cinnamon, into food processor and pulse to desired consistency.
Transfer to a bowl.
Scrape orange peel with a zesting tool, or on the fine side of a grater. If using the tool, then chop the slivers of orange peel into tiny pieces.
Add orange zest, and squeeze fresh lemon juice over butter, stirring in.

Sesame Seed Yoghurt: serves 2-4
1/4 cup sesame seeds, 1/4 cup soak water from dates, 1/8th teaspoon Himalayan salt.
Pre-grind sesame seeds in coffee mill (or blender) as finely as possible.
Put ingredients into blender or food processor with soak water and blend until creamy smooth.
Very rich—a little goes a long way!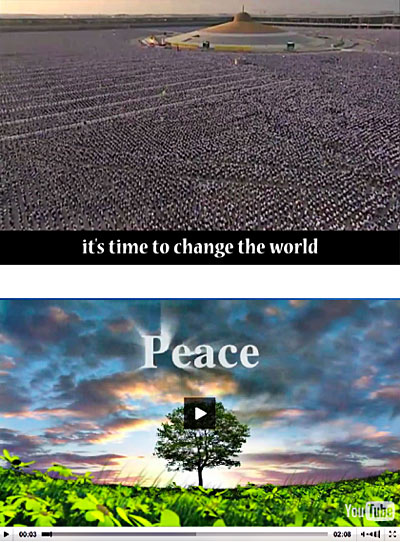 Rex and I were stopped in our tracks with this YouTube video of
one million
children singing the song, "
Change the World
". They had gathered with composer Howard McCrary (who said that the song came to him in a dream) for this historic event at the massive Dhammakaya Meditation Stadium in Thailand on December 11th. Can you imagine the logistics? Yet the children all look calm and at peace within. A meditation session had been a part of their day. We can only imagine what it must have been like to have had the chance to meditate with a million other souls at the same time!

Some of the lyrics from their song are:
Let's come together to change the world... everyone must join hand in hand to change the world, from darkness to brightness, from suffering to happiness... gently close your eyes, relax, relax, still your mind at the center of the body and look within...

These children are being taught to understand that what is within them will manifest in the world, much like Gandhi's transformational statement,
be the change you want to see in the world
. This marvelous truth is a part of the inspirational "
Peace
" video that we've also been watching. Both videos open our hearts and brighten our day.

We've read that the children being born now are evolved, with spiritual awareness and special qualities that will help us with the difficulties that face the whole planet. From what we are seeing here, and from the children we know, including our grandson, we believe this to be true.

Surely the children of the world are leading the way, and with them we are truly blessed.