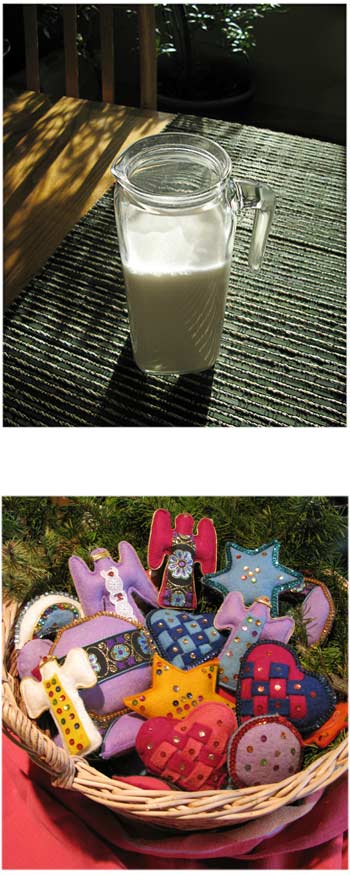 Almond milk is rich and creamy and tastes amazingly good with our
granola
. The milk is loaded with enzymes, heart healthy vitamins, minerals, and more. You can blend the milk with a banana and a few shakes of nutmeg to create a "raw nog", or top off steaming cups of chai tea for a delicious drink. Enjoy it plain, in smoothies, soups or dressings for added nutrition.

Ingredients:
1/2 cup raw almonds, soaked
3-4 cups pure water
1 Medjool date

Soak almonds for 6-10 hours. Drain and rinse.
Sprout for another twelve hours (optional)
Put into Vitamix or blender with water and date, and blend on highest speed for 30-60 seconds.
Strain through nut milk bag or sieve.
Note: tea strainers won't work—the mesh is too fine. Save pulp to use in breads, or give to the birds.
The question people often ask is do they need to have a Vitamix, dehydrator, and an expensive juicer to prepare raw food cuisine? I don't think they are a necessity—a good knife, blender, cutting board, veggie peeler, and grater will do. We started twenty-five years ago with a blender, an affordable juicer, and a small food processor, and managed very well.

Over the course of the last four years, as our budget has allowed, we've made some purchases—a Vitamix, an Excaliber dehydrator, and a Green Star juicer. These tools have opened up possibilities in raw food preparation that weren't there before, and we're grateful for new avenues for creativity. Since raw food is our total cuisine, it made sense to spend the money.

Our Vitamix and nut milk bag straining bag make the most delightful, pulp free, and creamy-smooth almond milk. Yet for almost fourteen years we used a blender and a strainer to make the milk. We even wrote a book—
Almond Essence
—about our experience of getting off dairy, and how we learned to make and use sprouted almond milk in both raw and cooked vegetarian and vegan dishes.

In another light, spiritual tools make an enormous difference in the quality of Rex's and my life. If I forget to do my spiritual exercise for even one day, the impact of that is felt in subtle, or sometimes not so subtle ways!

Taking twenty minutes for myself in contemplation is the main tool for my spiritual health that's absolutely indispensable, and one that I am compelled by choice to use day after day.

This daily practice sets me on course, keeps my heart open, and attunes me to the flow of Spirit. It puts me into the abiding place of the heart where the divine chorus is heard, where I feel an all embracing love, and the dove of deep peace.