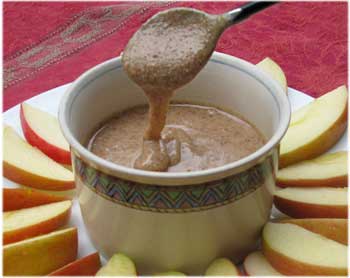 Delight your taste buds with creamy almond butter made with organic raw almonds, a touch of Himalayan salt, and a little oil. It's lovely to serve with some sliced apples or celery to nourish ourselves, or friends and family. We like to have it with a cup of our favorite tea. Right now, this is a Rooibos Chai, laced with a little honey.

Or make up a batch of almond butter, put it into a little jar, tie a pretty ribbon around the top, and give as a gift to someone you love.

Be forewarned... a teaspoon filled with honey and fresh almond butter is irresistable!

Ingredients: Serves 2
Measure ingredients carefully!
1 cup dry, organic almonds*
4 tablespoons Spectrum Walnut Oil**
1/4 teaspoon Himalayan salt

* Organic almonds have not been treated with harsh chemicals, and even though the government insists that the skins are flash steamed, the kernel inside is still viable, and will sprout. Otherwise, most almonds labeled raw are usually treated with toxic chemicals. Truly raw almonds are available at raw food stores and websites.

** As many of you know, we use Spectrum brand walnut oil because of its delicious mild flavor, and its high content of Omega 3 EFA's, which are so beneficial for our health.

Directions:
Put almonds and salt into a clean dry Vitamix or high speed blender. Grind almonds until powdery.
Add oil, and blend, starting on low speed, increasing speed as much as possible. Blend for about 2 minutes.
Transfer almond butter to a bowl or a jar with a lid. Refrigerate.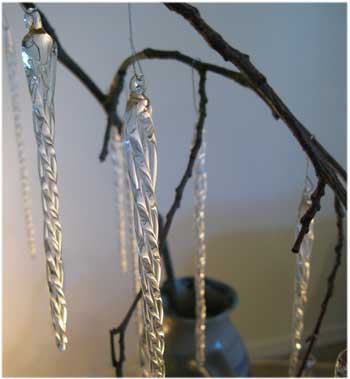 Thanks to two of our dear friends, Joanie and Susan, who both told us they'd made almond butter successfully, we finally decided to give it a try. We were amazed at how utterly easy and fast it was to whip up a delicious batch with that good homemade quality that made it even more special. Not to mention the freshness—it couldn't get much fresher than this!

One of the reasons we wanted to make our own raw almond butter is the high cost of readymade nut butter. At one co-op we went to, it was $20 a jar! This was a real impetus to see what we could do ourselves.

For us, there's nothing that can match the goodness of homemade food, especially when it's prepared with love. The special properties of the love in our hearts pour into the contents of each meal.

Homemade food is a wonderful gift that we can give to ourselves and others, and we all reap the benefits of delicious tasting foods, plus a sense of well being this kind of food brings.

In closing, we're excited to announce that we're having a special holiday edition of The Healing Feast coming next week. It will include suggested menus to help with preparing a raw food feast or a transitional dinner.

Rex has now included a search engine for the website so it will be easier to find recipes. And the archive will be updated too—forty recipes and stories from the last few years were not posted in the archive due to an oversight. So there's going to be lots of goodness to enjoy and to share! Peace and love to you all!