Green spouts team up with veggies, apples, lemons and limes, to make the most awesome and delicious juice! Sprouts are filled with potent life-building enzymes, and tons of antioxidants. When we drink this juice Rex and I can literally feel that our bodies are being flooded with the essence of life and that our cells are being restored - not to mention the tingling sensations of powerful energy that move through our whole body, into the brain, and the extremities. Brain fog instantly disappears!

Sprouts have properties that help to repair our DNA, which is no small feat! Buy already grown sprouts at your local health food store, or grow your own. For another sprout juice recipe,
click here
.

Ingredients: Serves 2
2-4 apples
1-2 quarts green sprouts (alfalfa, clover, etc.)
1 head celery
1 bunch parsley
1 beet with tops, only if they look fresh
1 two inch piece ginger root
1-2 lemons
1 lime

Directions
Grow sprouts until ready—about five days. Follow the instructions and video from
The Sprout People
. They also show how to use a perfect little sprout salad spinner that works wonders to remove hulls,
available on Amazon
. Rinse all veggies and fruit.
Put ingredients through juicer. Or to extract every little drop of goodness from the sprouts, juice veggies, apples, and citrus in a juicer, and transfer to a Vitamix, then add in sprouts.
Blend on highest speed for ten seconds.
Strain using a nutmilk straining bag.
Drink immediately for the best results in energy boosting.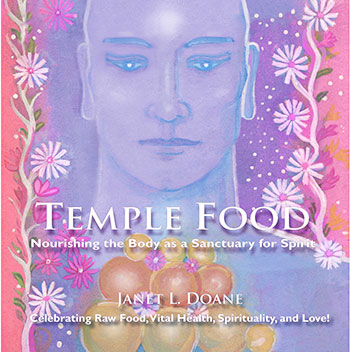 Temple Food books have
arrived at Amazon
! And today until December 1st, they are offering a special 30% discount! We're so excited! However, if you'd like an ebook, Rex will be posting it on the site in the Little Store, and it's going to be in a lovely "turning pages" format. We hope you enjoy it!

If anyone had told us what we were in store for to get a high resolution, full color book like this self published, we may have stopped in our tracks! Yet the desire to share this book kept us going, kept us working at it, plugging away month after month, step by crazy step. We thank you for your patience too!

Isn't this the way that it can be with life? Problems and challenges sometimes need ongoing, special attention, and what may seem like an endless, long hard road, suddenly turns into a beautiful garden. In the end, it all comes down to the saying, "it's all good". And sooner or later, everything resolves itself, and through the process we become purified. Then we're ready to take our next step. And now, there's a book out in the world that Rex and I created—how beautiful is that?

We want to apologize for all the delays there have been in getting out The Healing Feast, and we hope to resume our schedule without breaks. We've got some wonderful surprises coming, and some awesome new recipes—one for wild rice, and another for a mouth-watering sorbet!

More About Sprouts!
To share some great info on how to grow sprouts, check out
The Sprout People
. They have wonderful how-to videos, and step-by-step photos that show the sprouting process, such as what the seeds look like after the first soak, with consecutive photos that show how they develop until they're ready to eat. This eliminates all questions or concerns on how to grow them.

For a lovely and accessible book on growing sprouts at home, we just got Kathleen O'Bannon's book,
Sprouts
. It's filled with lovely color photos, all the sprouting information you'll need, nutritional profiles of sprouting seeds, and recipes (some raw, some cooked) that use sprouts. We hope that sprouts come into your world, and that health and abundance flood into your life in all the most beautiful, and wondrous ways.