Walking to our raised beds where our kale and collards have wintered over, the ground is covered with sparkling droplets of spring rain. I pick only the leaves that feel "right" to pick, thanking the plants as I head back to the kitchen, all the while looking forward to making a nutritious lunch.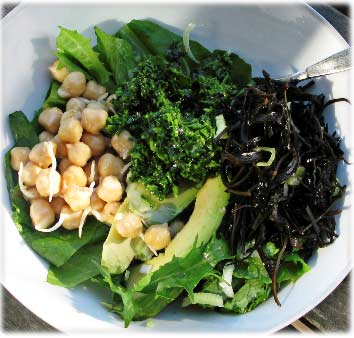 Call me crazy, but I'm in heaven when I sit down to a meal made from these fortifying greens—collards are our favorite—prepared like pesto. My body craves these greens, and the longer we've been eating living food, the better they taste. They're packed full of nutrients, amino acids, vitamins, and proteins, and help to cleanse the liver.

These mineral rich, stronger tasting greens may take some getting used to—Rex isn't quite the enthusiast that I am, although he enjoys them mixed in with milder greens, such as lettuce.

Our salad this week teams miso greens with even darker greens from the sea—arame seaweed—and two day sprouted, high protein, garbanzo beans*, with sliced avocado, served over a bed of leafy spring lettuce. This makes a hearty bone-building meal that fills us up. Serve with a honey mustard dressing.

Ingredients:
Serves 2-4
2 cups greens: collards, kale, or spinach, chopped
2 tablespoons leeks or green onions, chopped
2 tablespoons mild olive oil
1 tablespoon
South River
Miso, or your favorite
1 tablespoon ginger root, minced
1 small clove garlic, pressed
1 shake cayenne
2 cups additional spring greens
1/2 avocado, sliced
1/4 cup (measured before soaking) arame seaweed, soaked
1/2 cup
sprouted garbonzo beans
*
*If you can't eat raw sprouted garbanzo beans, steam them for ten minutes to aid digestion. This makes an excellent transition meal.

Directions:
Place greens, oil, miso, ginger, and optional garlic and cayenne into food processor and pulse to desired texture. If you don't have a food processor, mince greens with a good knife, and add in other ingredients. Mix well. Soak arame for ten minutes in just enough water to cover it. Drain off excess water. Add a drizzle of oil, a pinch of Celtic salt. Rinse lettuce in cool water, drain, and chop or tear into bite-sized pices. Peel and slice avocado, and assemble salad.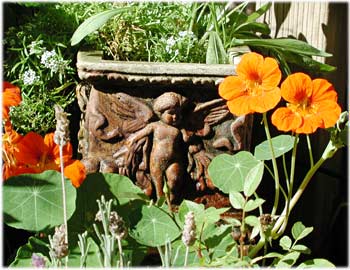 Two little girls from the neighborhood are walking down the street together, each carrying a large white plastic garbage bag. They stop occasionally to pick up bits of trash from along the sidewalk and empty lots. I see their faces, their large expressive eyes, and they look utterly like earth angels.

Both have long hair—one is dark, one is fair. The breeze gently lifts their tresses off their shoulders. They walk, looking so energetically linked that they seem like one person—they definitely are experiencing a shared goal. I can tell they are relishing the warmth of the sun on a spring day that's balmy enough for them to be dressed in T-shirts. Their expressions are solemn, yet loving, filled with compassion. Their active efforts to make the world a better place starts me thinking about being an earth angel, and what I can do.

One thing will be to plant the small shrubs we've gathered over the years that have been living in pots. It's time they go into the ground. They will grow to become lovely trees and bushes, helping to purify the atmosphere, providing a habitat for the wildlife.

These are small steps, but important ones. Actions that when magnified by millions of people make huge differences. I thank the little girls in my heart, wanting to emulate what they do. I feel such gratitude to the children who are so often our best teachers.